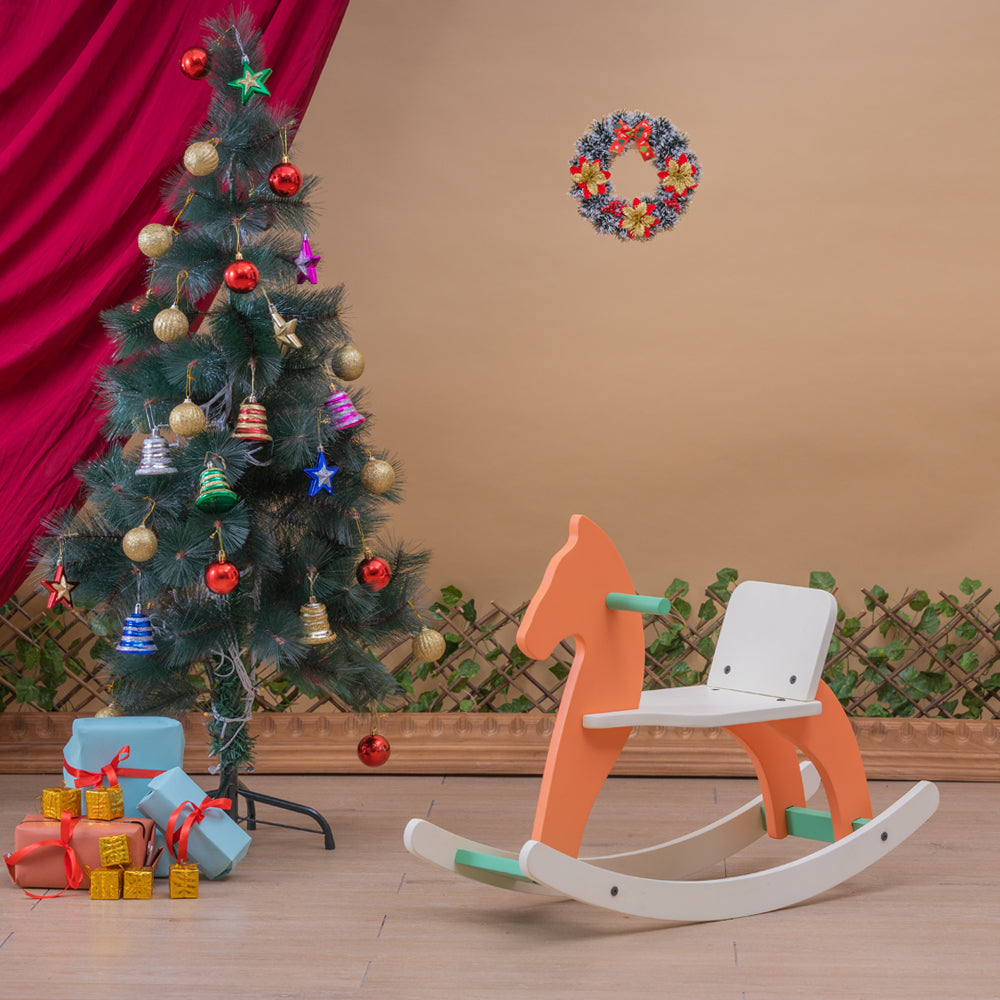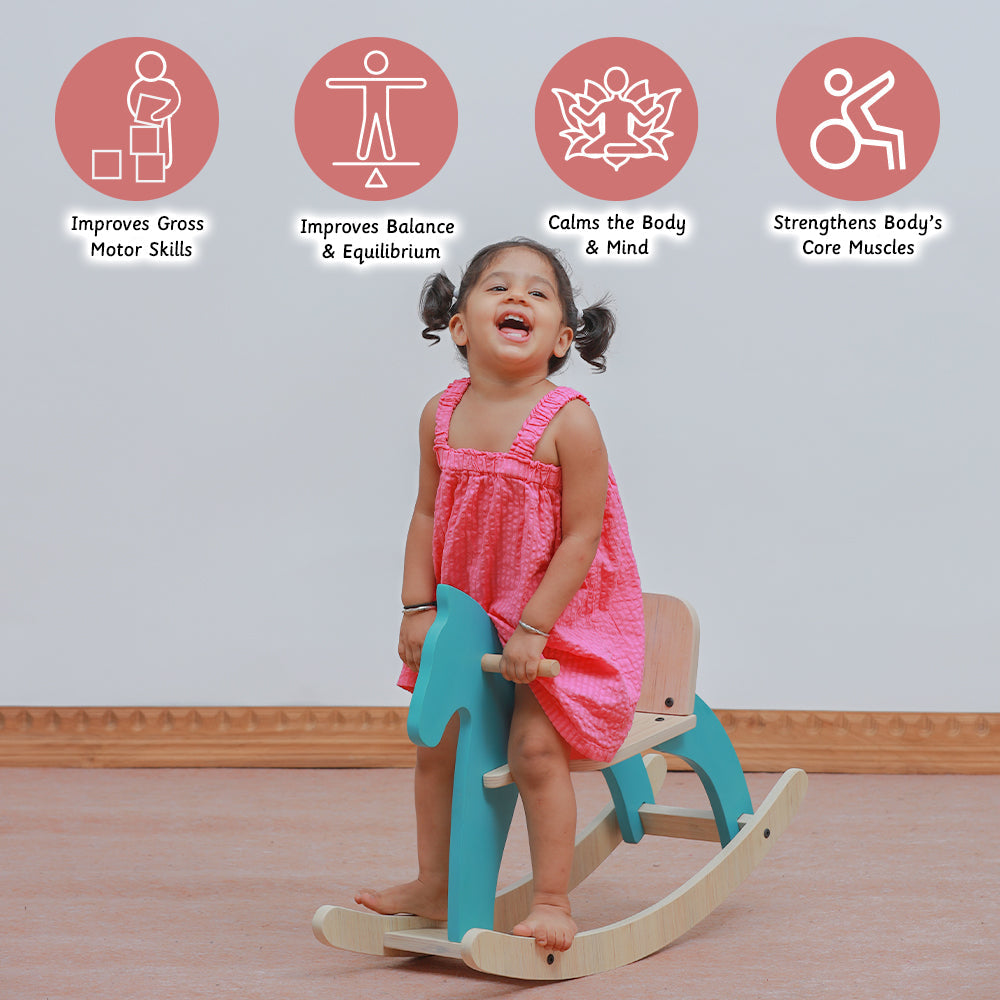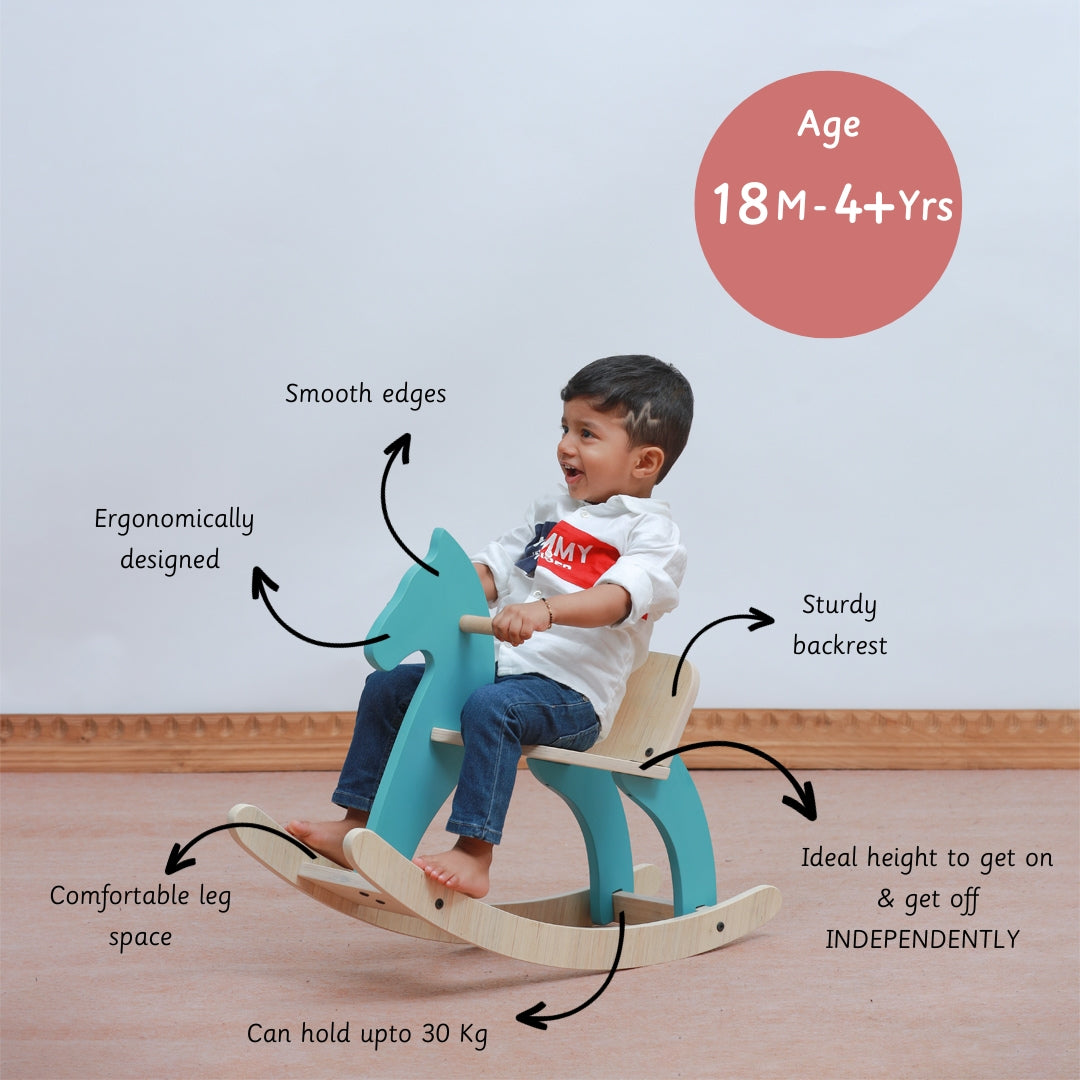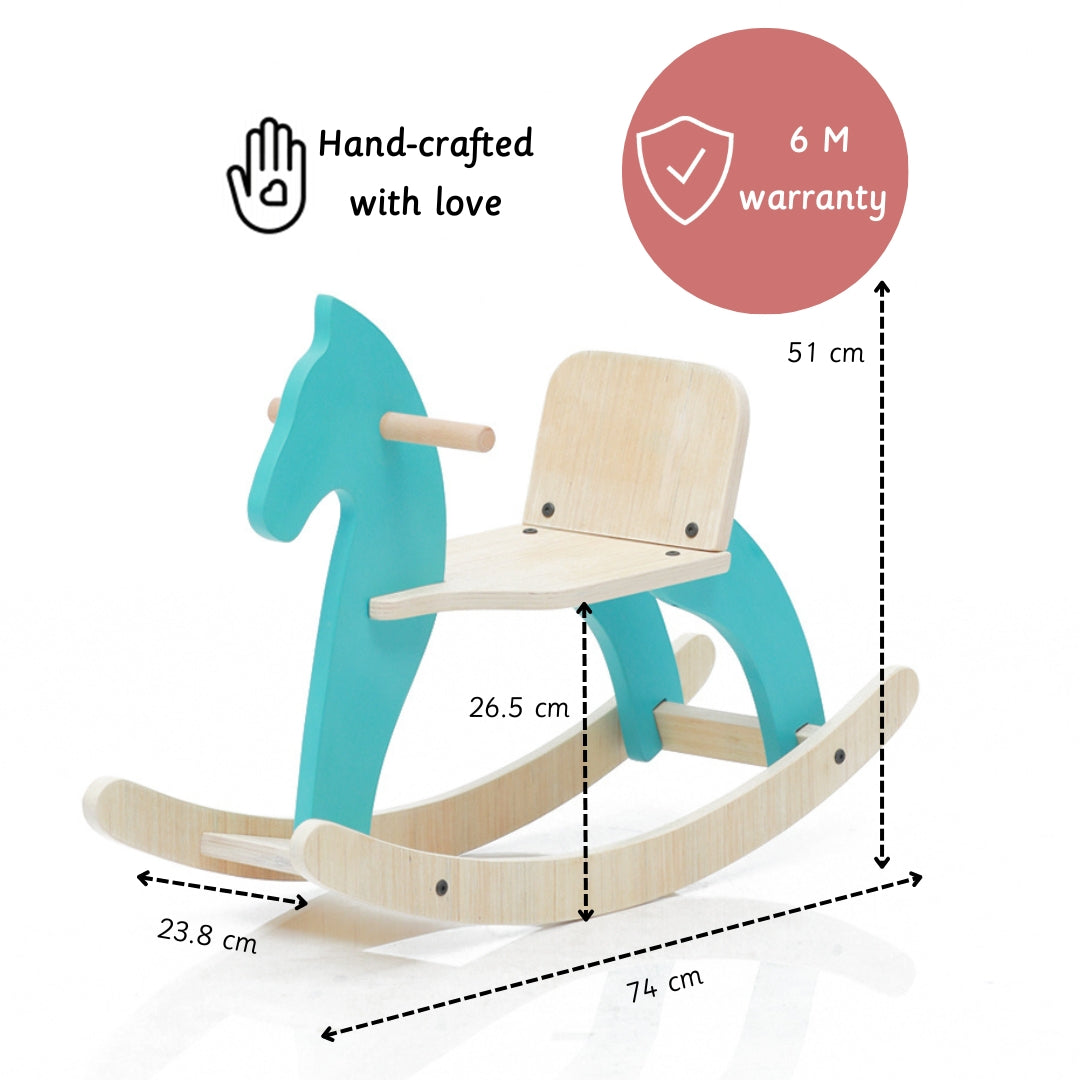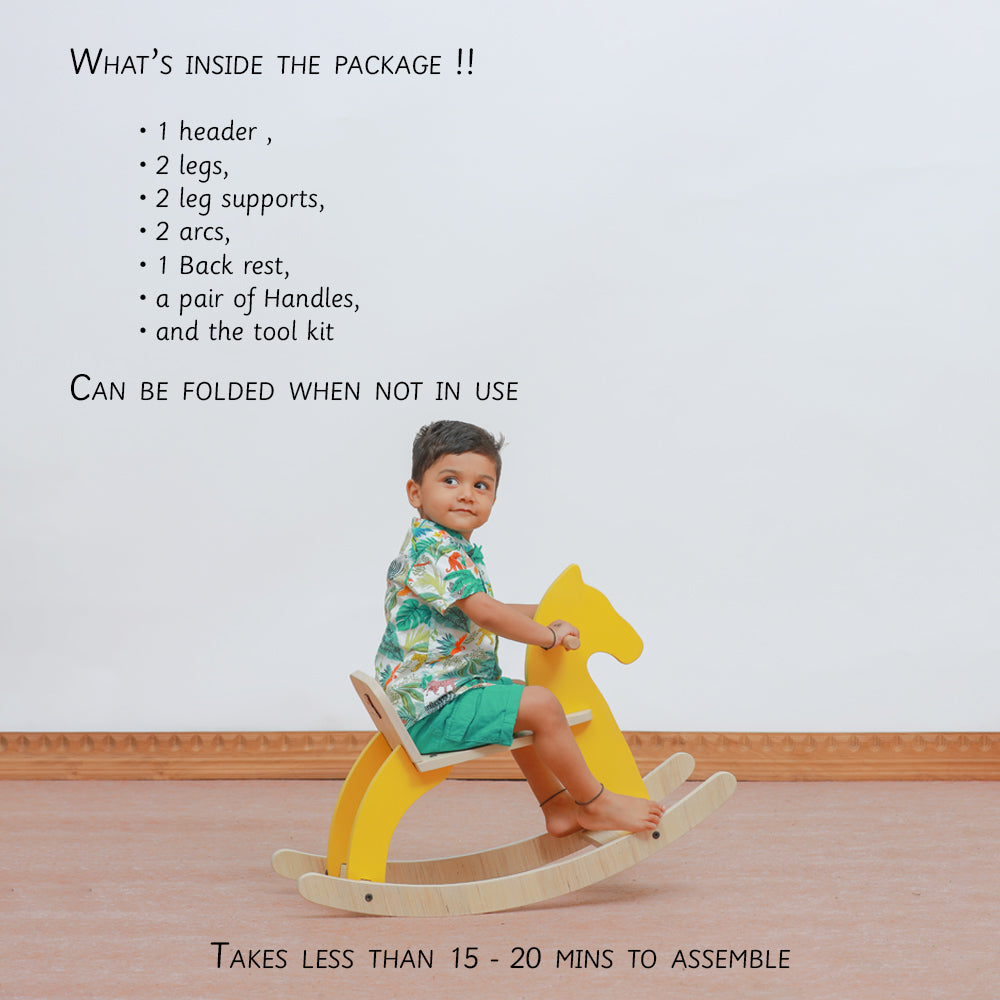 18+ Months
Rocking Horse-Holiday Edition
Improves balance and equilibrium | Calms the body and mind | Strengthens body's core muscles
Sale price
₹4,482.00
Regular price
₹4,980.00
Tax included.
Why Ariro's rocking horse?
Do you want to offer some fun independent play for your little one who has started walking & running?
Ariro's Traditional Rocking horse is the best at this stage for gross motor play
Your little one can climb in and out all by themself without your help
Ideal for 18M+ to 5Y
Designed by experts for an ideal height, keeping in mind the concept of Independence
Sturdy back support to withstand pressure
Spacious footrest & comfortable handle
Hand-crafted from sturdy materials & child-safe paint
6 Months Warranty
Develops vestibular system and improves balance
Gives a sense of Rhythm and oscillation
Strengthens both upper & lower body muscles
| | |
| --- | --- |
| | Holds upto 30 Kgs |
Wooden Rocking toy  
A child on the rocking horse is the most iconic image in a nursery or child's room. Although through the years, children's toys have seen many changes, the quintessential horse rocker seems to have survived it all and still remains an essential in every household. And there is plenty reason as to why children today still love the rocking horse as much as the generations before them did.
The Ariro rocker is made of solid wood with a wide base for safety. Its simple design helps to clean and maintain it without any hassle. The wide seat and wooden handles help the child stay steady as they rock back and forth.
 Rockers help children calm down and relax
There is a reason why we rock babies to calm them or help them sleep. The rocking movement may help regulate the heart rate. Research also links rocking with good blood circulation. Even when they grow into toddlers and older children, rocking has a calming effect and helps children feel secure and relaxed.
 Rockers improves core strength and sense of Equilibrium 
When children use rockers, they have to figure out how to make it move and this involves core muscle and well as those of the upper body and legs. These muscles get strengthened in the process without the child even realizing that they are exercising.
 Rockers can facilitate the introduction of rhythm
The back-and-forth movement of a children's rocker gives a child an experiential lesson on rhythm and oscillations. Children can explore how it feels to move slow and move fast as well as what happens during the transitions between these speeds. You can help your child with this by counting along, clapping along or singing rhythmic songs to match their rocking.
 Encourages creativity and open-ended play
The Ariro Rocker is not designed to look like traditional horse rocker -it has a more open ended design. This design encourages the child to imagine different things they could be doing apart from just riding a horse. They could imagine themselves sailing on a boat, flying on a plane or riding a bike. – the possibilities are endless.
 Rockers give children control
Unlike electronic rockers where the child has no control over the speed of rocking, the Ariro rocker helps the child decide how they want to use it. This gives them control over their play, gives them agency and helps them feel empowered.
Rockers are a pure delight
The Ariro rocker is sure to fill the child with unbridled joy and delight as they experience the rush and as well as the calmness of rocking, stimulating their creativity and imagination, all the while building their body strength and sense of balance in a safe and secure manner. 
**parental guidance necessary at all time 
Dimesnion ( L x B x H in cm):
74 x 24 x 51
---
Product Weight: 3 Kgs
---
Assembly :
Comes in flat packing and needs assembly. It takes about 2 minutes to set up. DIY approach, please get in touch with us if you have any questions; we'd love to chat. Follow the guidelines as listed below.
Your love is the only mission we work for! If you are not happy, please get back to us within 7 days for return/ exchange/ refunds. Call or whatsApp on 8939992452 Else mail to help@arirotoys.com
Know More
Rocking Horse-Holiday Edition
Sale price
₹4,482.00
Regular price
₹4,980.00