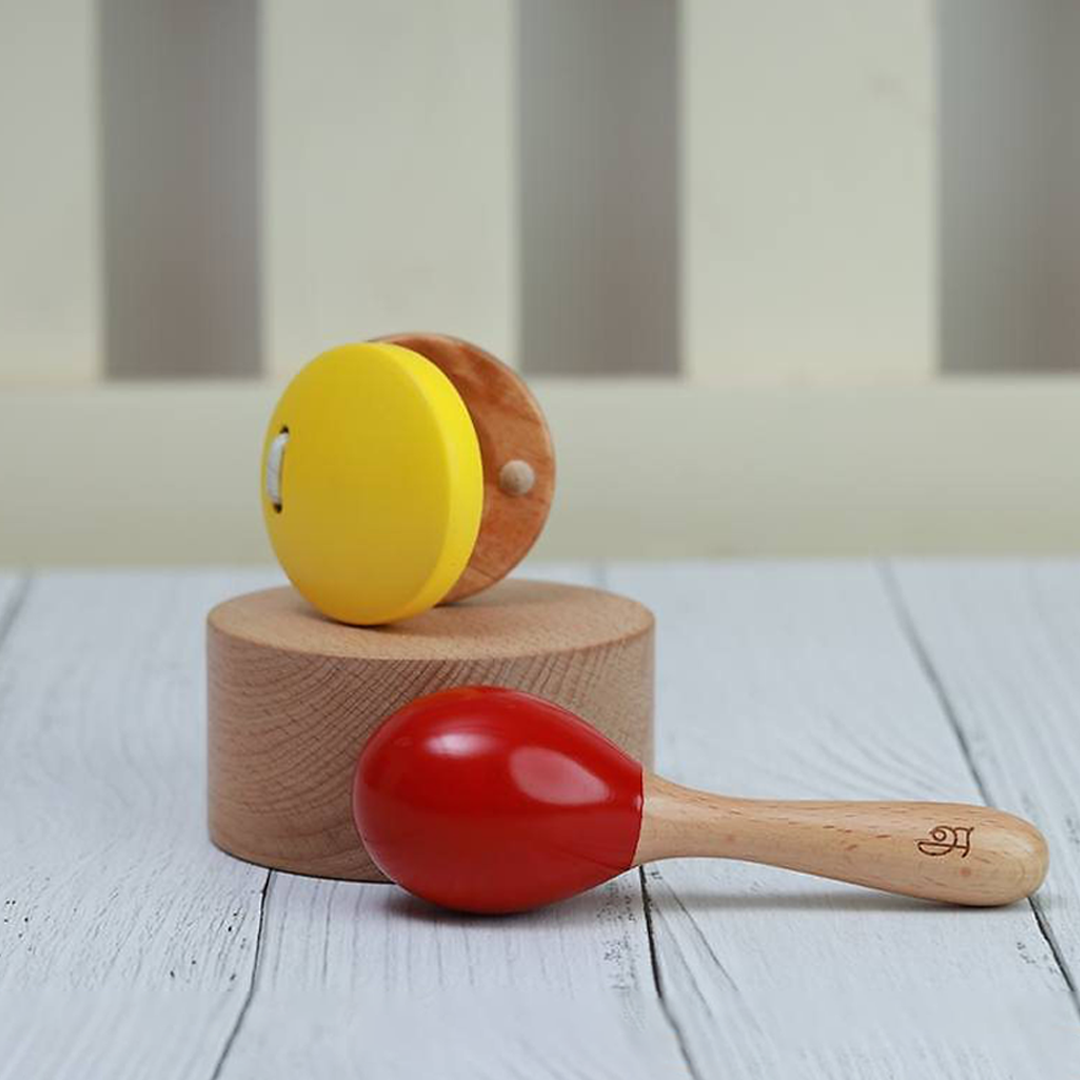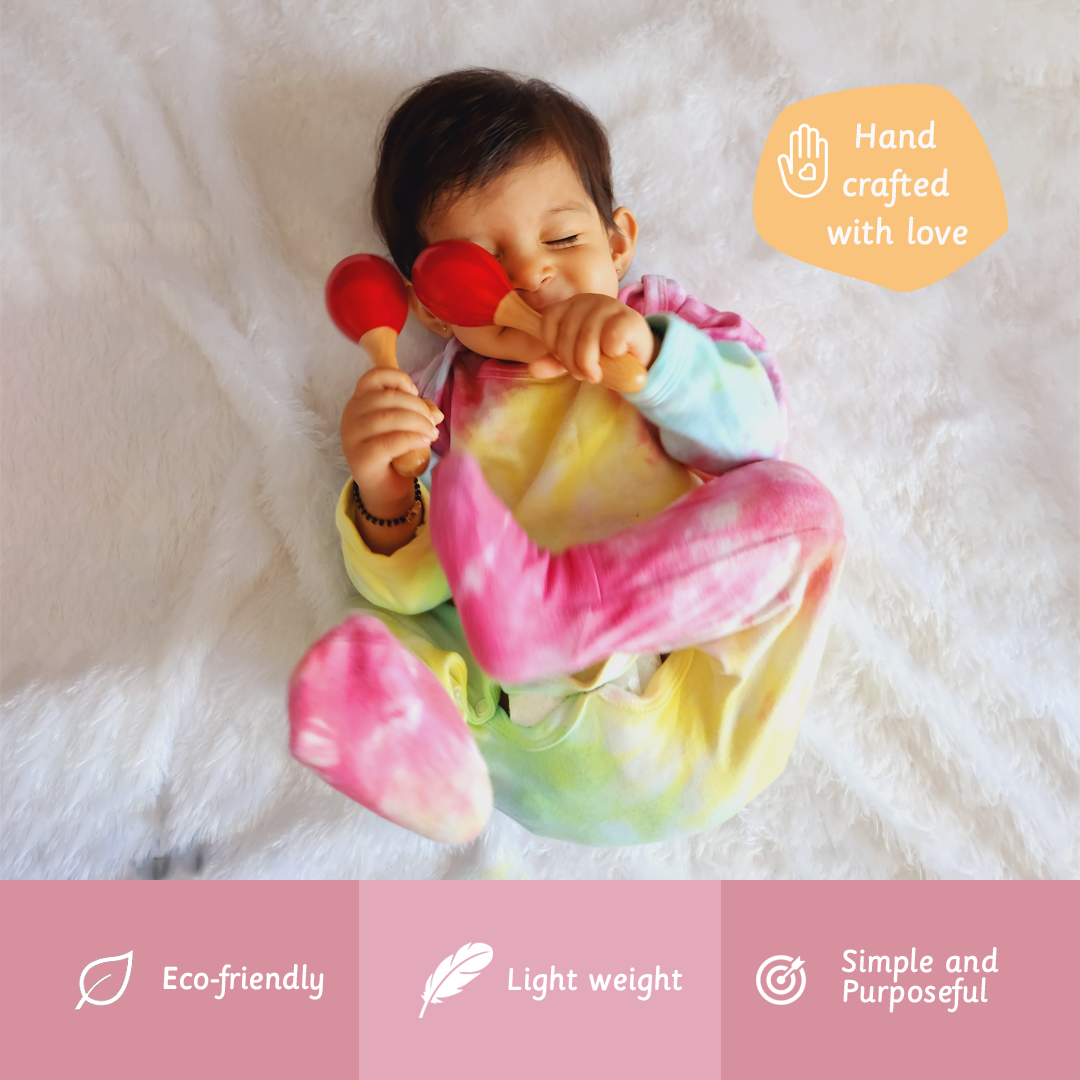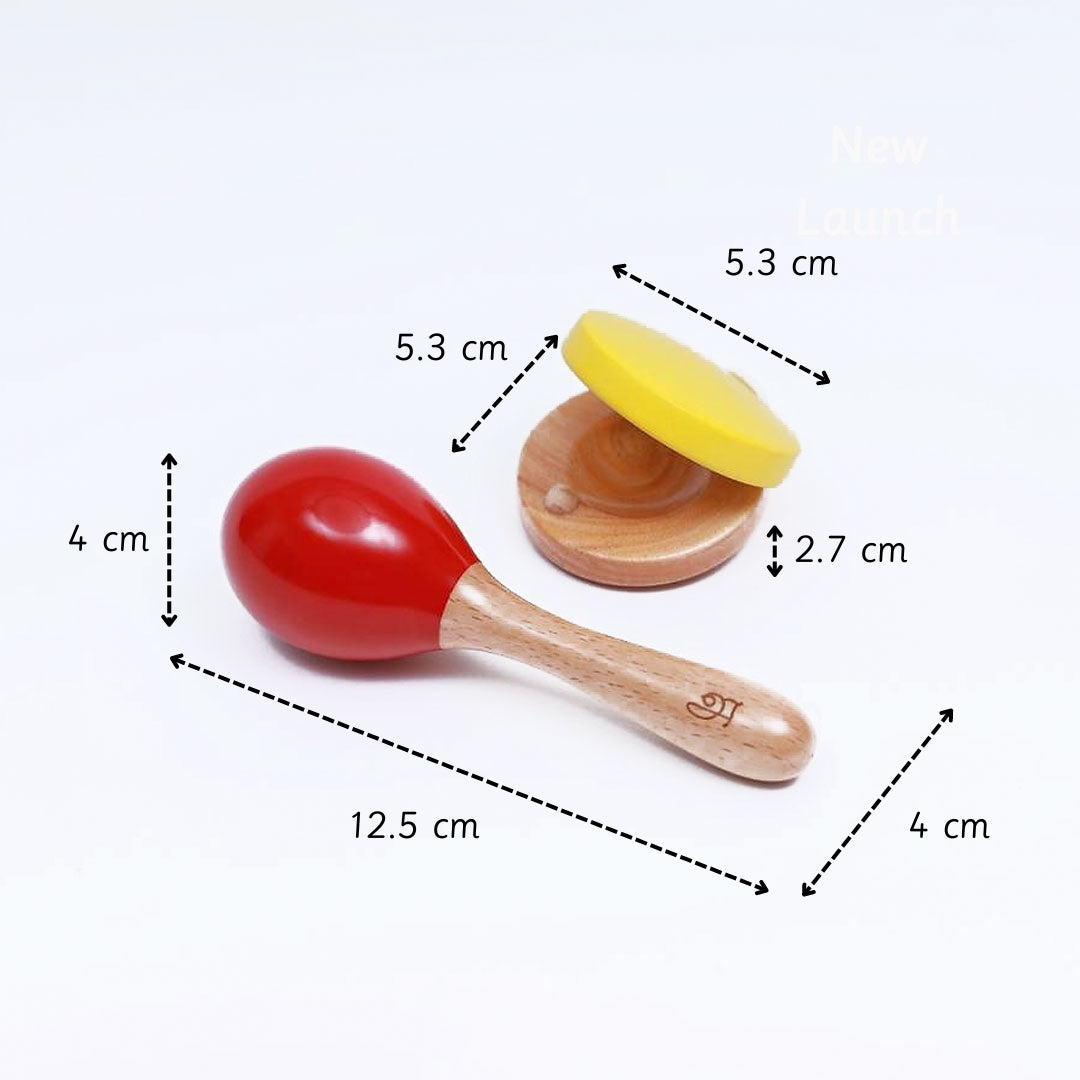 3 Months +
Maraca and Clapper
Opportunity for Hand-eye coordination | Helps Understand Cause & Effect | Aids Independent Play | Improves Auditory responses | Introduction to Music and Rhythm
Sale price
₹600.00
Regular price
Tax included.
Why a wooden Maraca & Clapper?
Babies are naturally attracted to sounds and love to explore different kinds of sounds
Best way to introduce your baby to music and rhythm
Smooth, blunt and Child safe materials ensure safety
Gives an opportunity for coordinated movements
Helps the baby to understand that they can cause an action and wait for its effect
Ideal way to encourage independent play
Wooden Rattles for infants 
For infants, rattles are the perfect form of auditory stimulation.It catches their interest and delights them in a desirable way. 
Benefits of Wooden Rattles 
- When presented to a baby who has started actively grabbing and exploring, rattles are wonderful grasping aids.  
- For young infants, whose tactile sense is acute, wood offers a good sensory experience. 
- The infant's visual and auditory tracking can be seen when clappers/maracas are moved across his or her field of vision.    
- Rattles help in refining of movements in hands. 

Ariro's Rattles 
- Ariro's rattles are made from the finest materials to ensure complete safety for your little one 
- Made from the lightest wood that has been naturally seasoned and finished without the use of chemicals.
- Thoughtfully designed around the Montessori principles by Montessori experts of Early childhood 
- A skilled artisan carefully and meticulously crafts each rattle by hand, paying close attention to safety and detail. 
Dimesnion ( L x B x H in cm):
Maraca- 12.5 x 4 x 4
Clapper- 5 x 5 x 2.5
---
Product Weight:
Maraca- 40 Grams
Clapper- 30 Grams
---
Package Content:
Your love is the only mission we work for! If you are not happy, please get back to us within 7 days for return/ exchange/ refunds. Call or whatsApp on 8939992452 Else mail to help@arirotoys.com
Know More
Maraca and Clapper
Sale price
₹600.00
Regular price