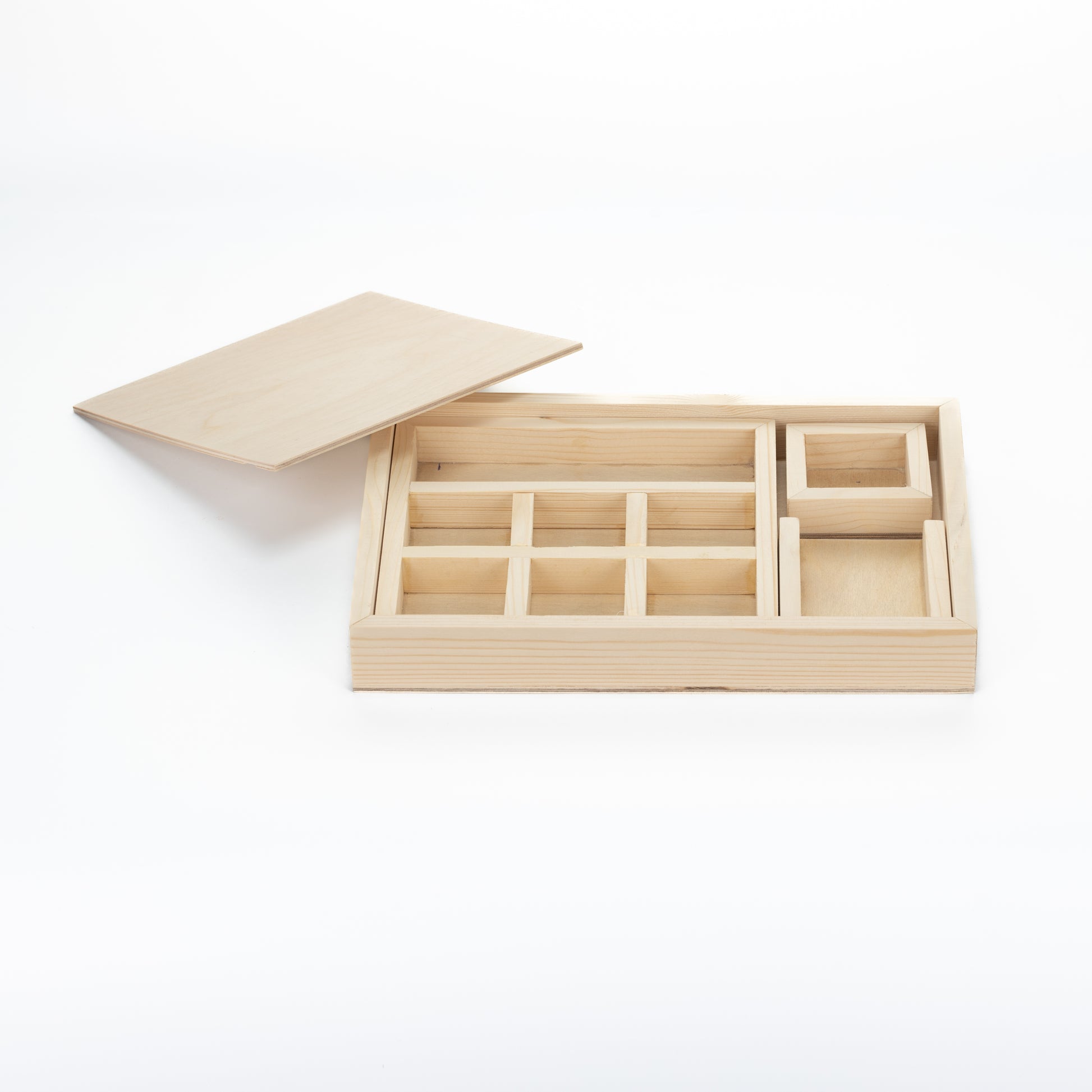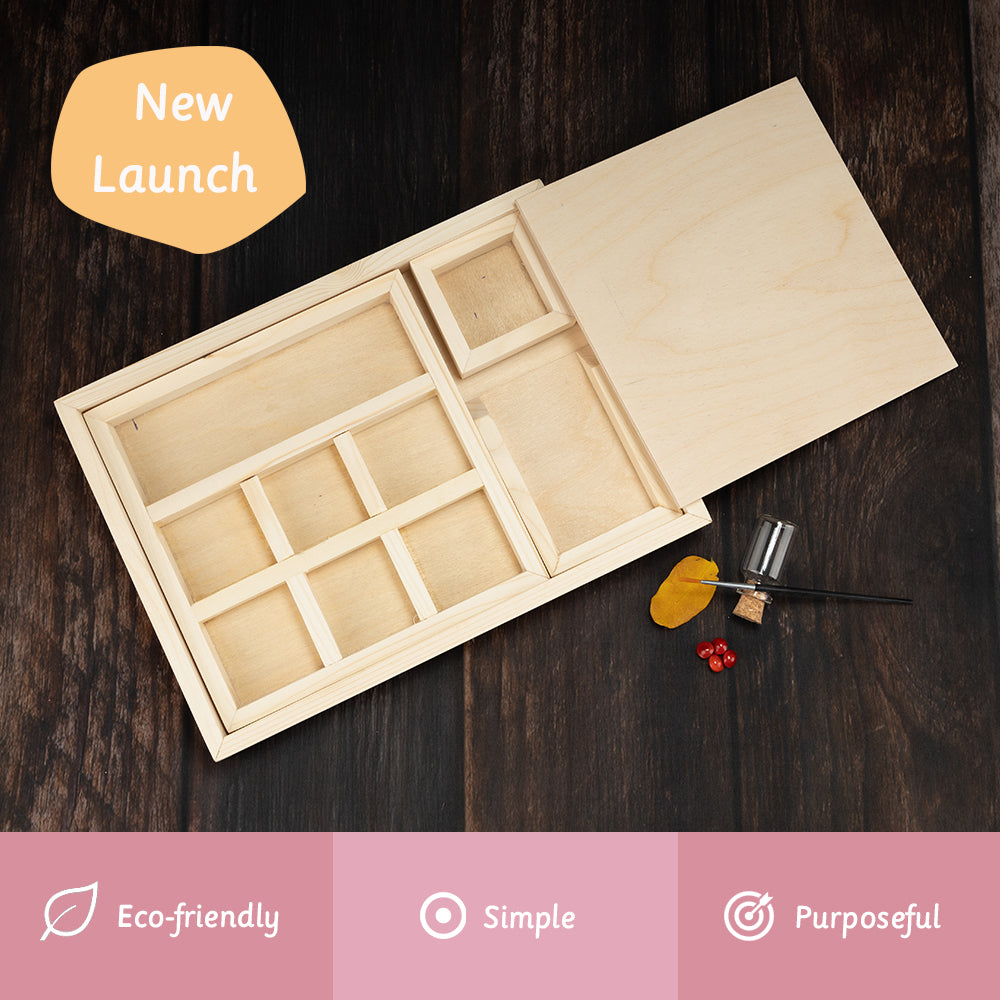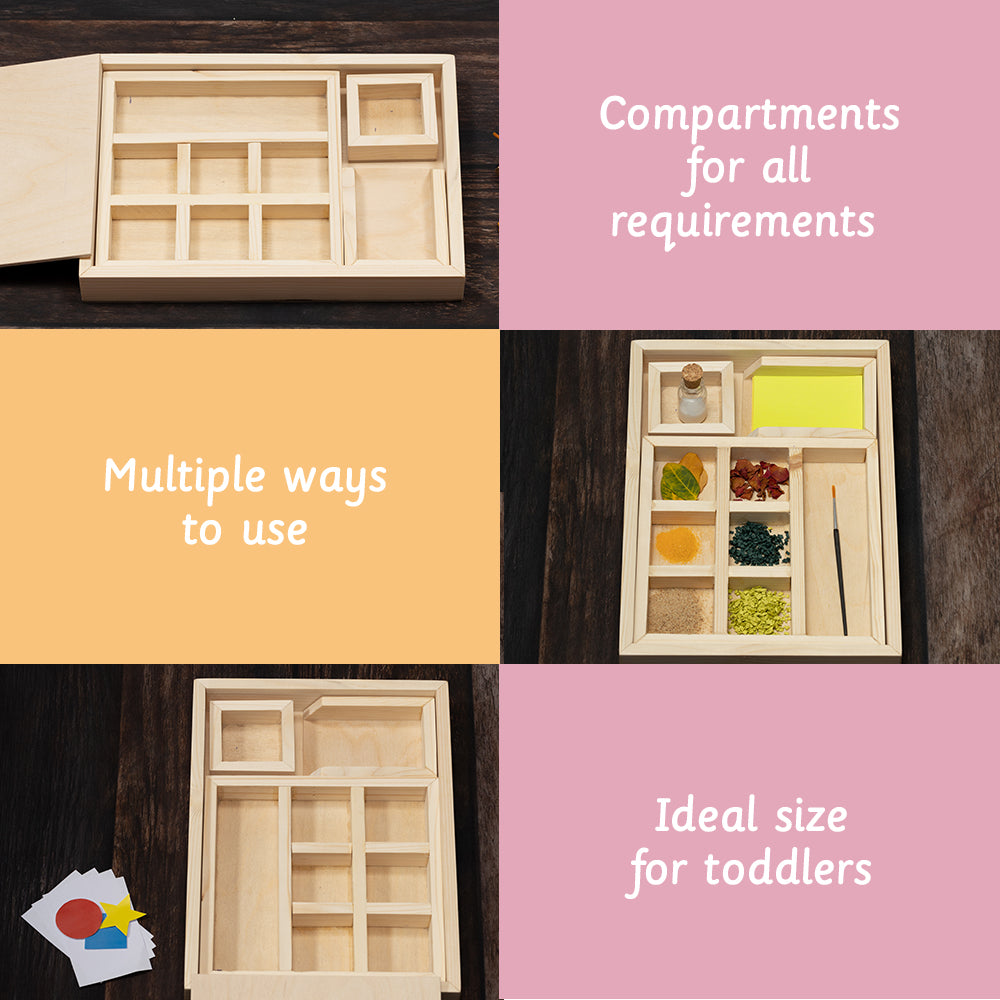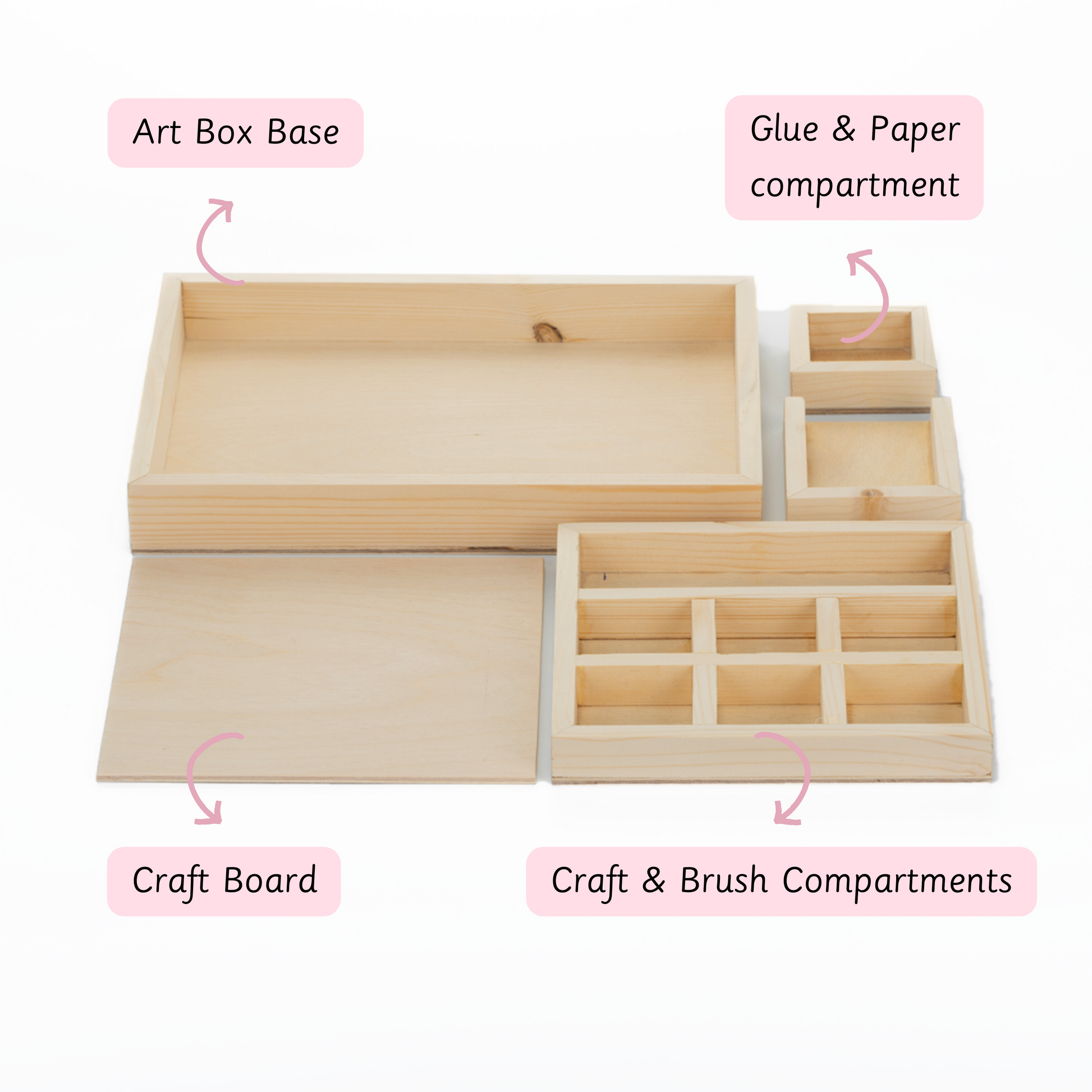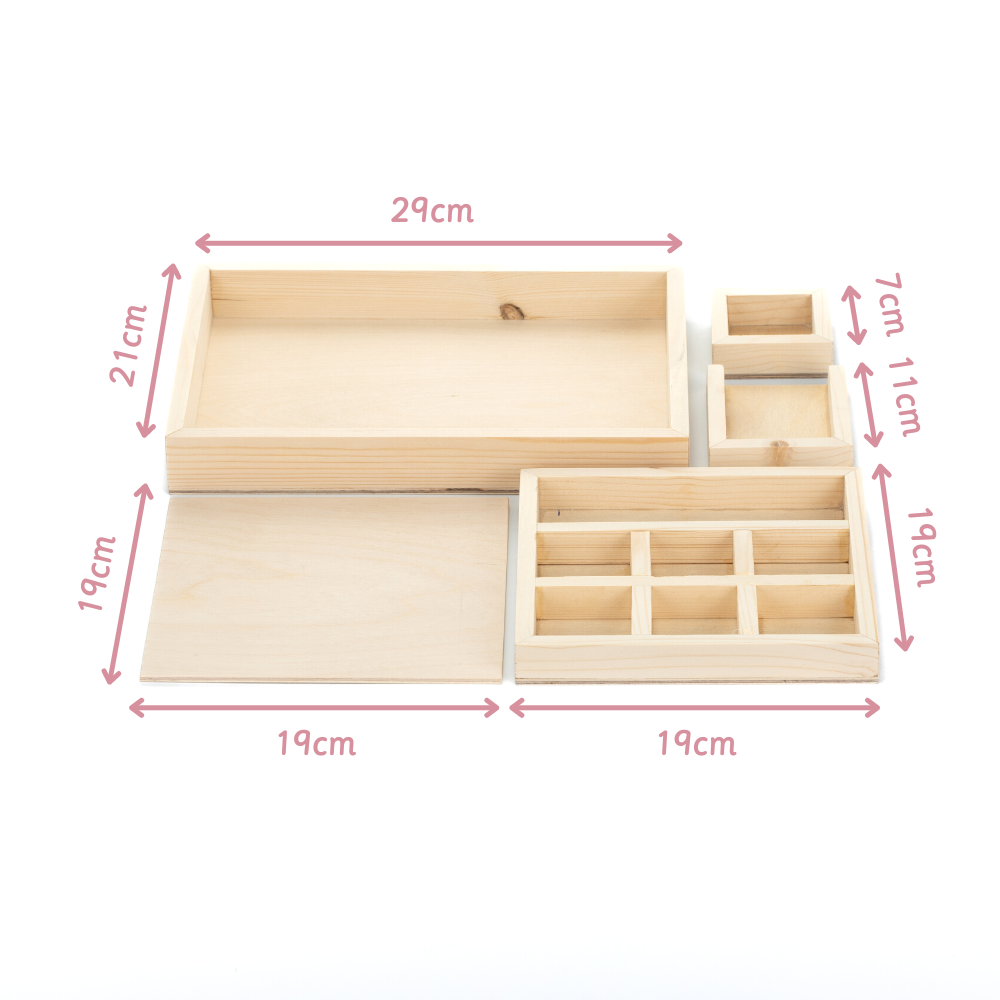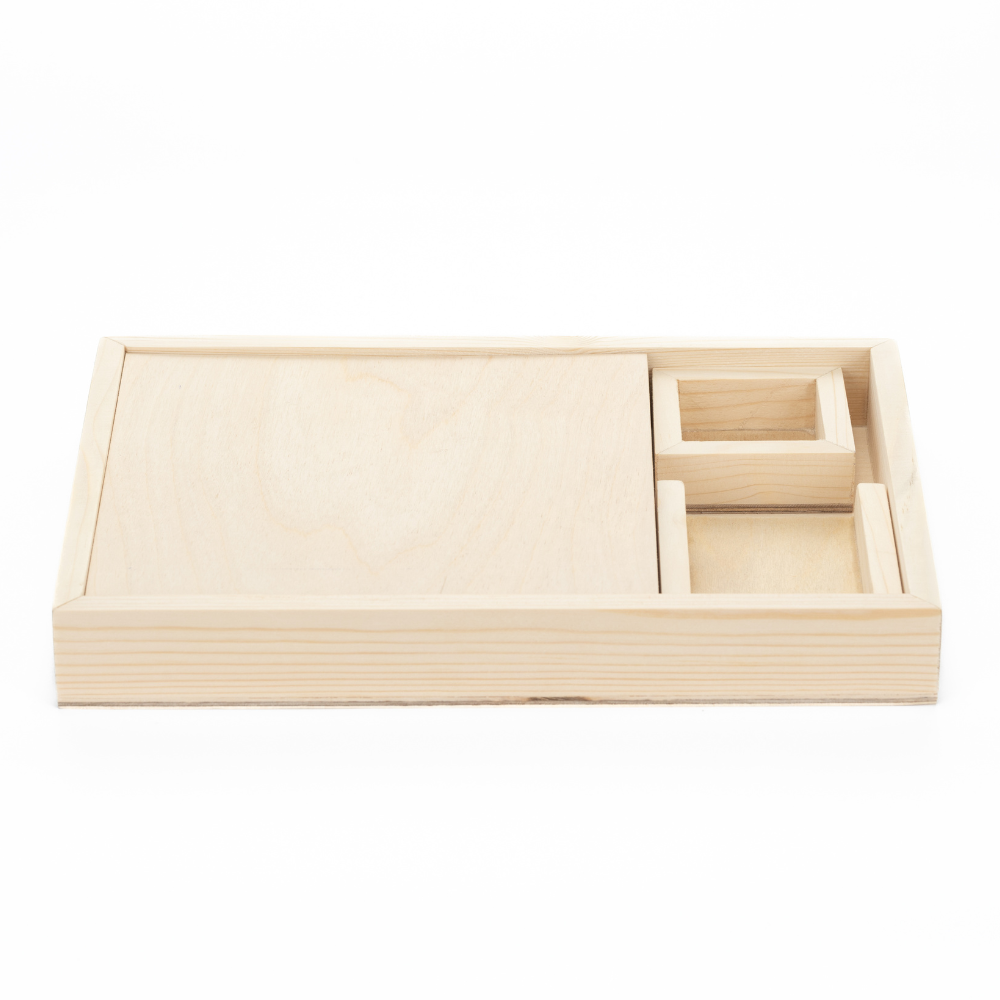 Promotes creativity and self-expression | Enhance fine motor skills | Develop hand eye coordination | Supports the need for independence | Satisfies the sense of order
Sale price
₹899.00
Regular price
Tax included.
The Montessori Glue Box
The Art Box, also called the gluing box is a signature material in all Montessori toddler classrooms. The box is designed very thoughtfully, keeping the skills and abilities of a young toddler in mind. The box consists of separate compartments to hold all the different things a young toddler will require to successfully create a piece of art. It has placeholders for paper , cut outs, a bottle of glue, a gluing brush with a stand and a piece of cloth to wipe off excess glue.
Why do you need an art box?
Why can't you just give your toddler some paper, some glue and something to stick? Yes, you definitely can, but that kind of set-up in not likely to be beneficial for your toddler's developing sense of order and need for independence.
Order
Since toddlers haven't yet developed an inner sense of order, they depend on the environment to provide them with this order. The art box has designated slots for each of these materials, helping the toddler to organise their work and reducing frustration as everything they need for an activity is at the same place and they know where each material goes, making it easy for them to put things back as well.
Independence
As soon as they can start walking, toddlers realise that their hands are no longer needed to help them move from one place to another . They can now be used to freely explore the environment around them. This also leads to them wanting more independence and finding ways to do things by themselves. The Art Box is designed to meet this growing need for independence. Initially, the adults can set up the materials needed but soon they can just start setting up a supply for paper, a box of cut outs and other materials that the toddlers can themselves access and fill up the box before they start the activity.
Not only is the art box a fun and exciting material for the toddler, it also helps them indirectly develop many skills.         
Fine motor and hand-eye coordination
Handling small pieces of paper or other material, manipulating them  and placing them on another surface develops a young child's fine motor and hand-eye coordination skills.
Concentration
Young toddlers are in the process of developing concentration – working with the art box helps them practice by focussing on creating art within a small surface using limited materials.
Creativity
The open-ended nature of the art box and the fact that you can put out a variety of different materials in it helps the toddler to enjoy the process of creating art rather than focussing on the final product. This helps kindle their creativity and aids in self- expression.
Spatial orientation
Deciding how to use the space of the paper , how to place the paper cut-outs within that space, how to turn the shapes and where to apply the glue lead to developing and practising spatial orientation skills. 
Dimesnion ( L x B x H in cm):
Art box base- 21x 29 x 4.1
Glue compartment- 7 x 7 x 2.8
Paper compartment- 11 x 8 x 2.9
Craft board & Brush compartment- 19 x 19 x 2.9
Wooden Plate- 19 x 19 x 0.8
---
Product Weight:
650gm
---
Package Content:
1 Art box base

1 Glue compartment

1 Paper compartment

1 Craft board & Brush compartment

1 Wooden Plate
Your love is the only mission we work for! If you are not happy, please get back to us within 7 days for return/ exchange/ refunds. Call or whatsApp on 8939992452 Else mail to help@arirotoys.com
Know More
Art Box
Sale price
₹899.00
Regular price
Excellent
Received this tray today, we loved the art tray. More than that the way the item was packed, the print on the cloth bag and not to forget the seed that comes with this tray. Greatly impressed. Really appreciate ur efforts... Thanku