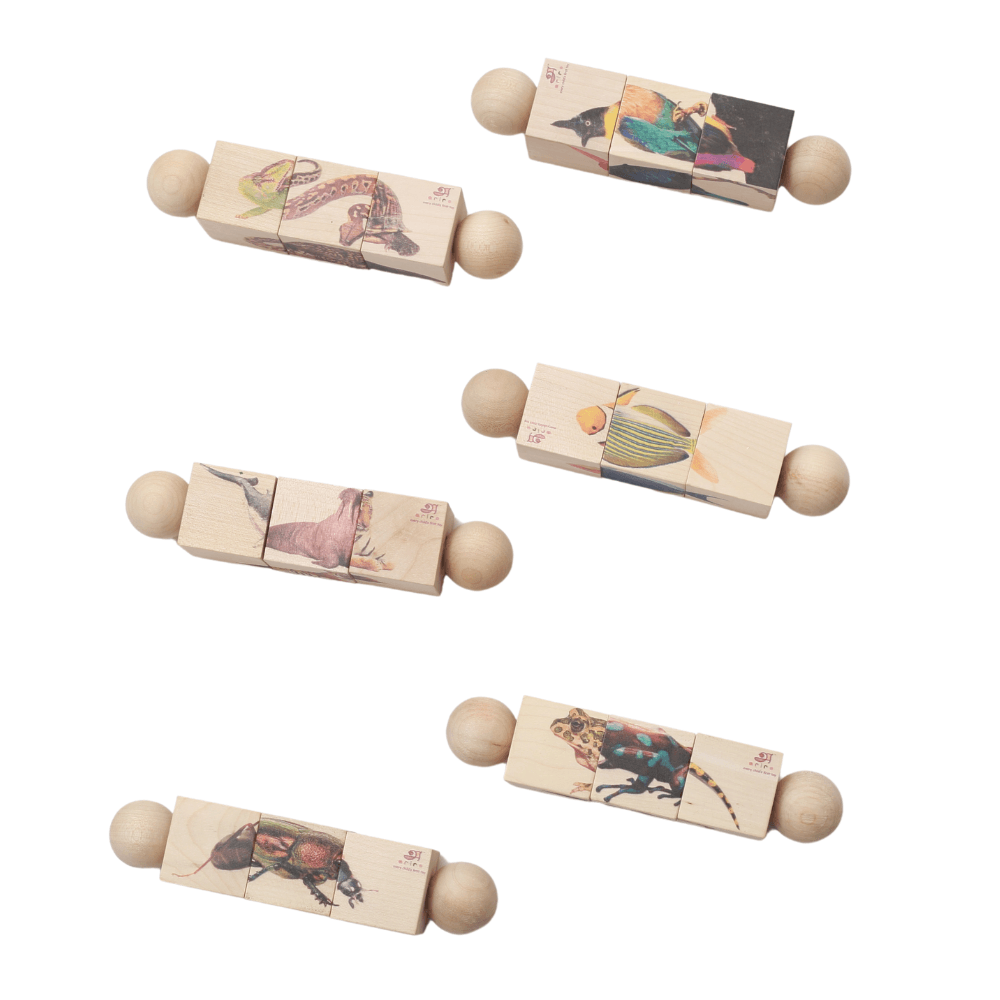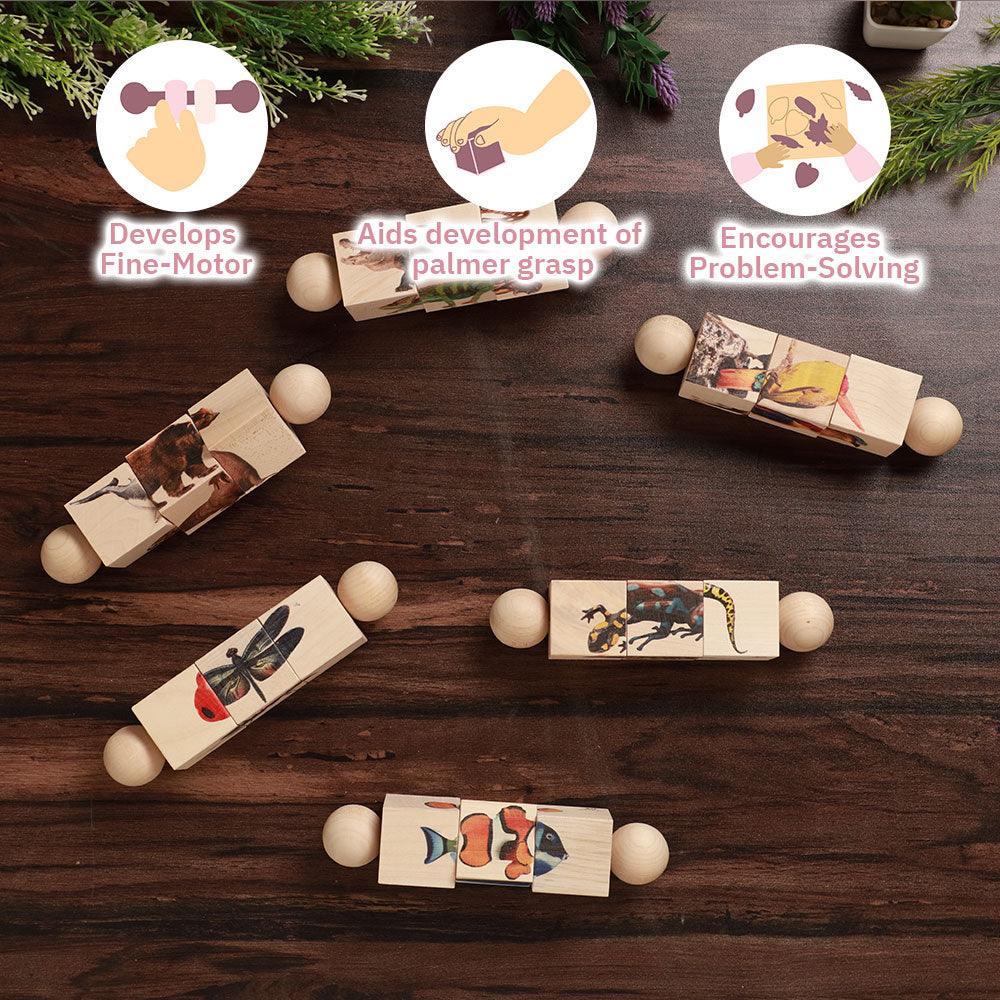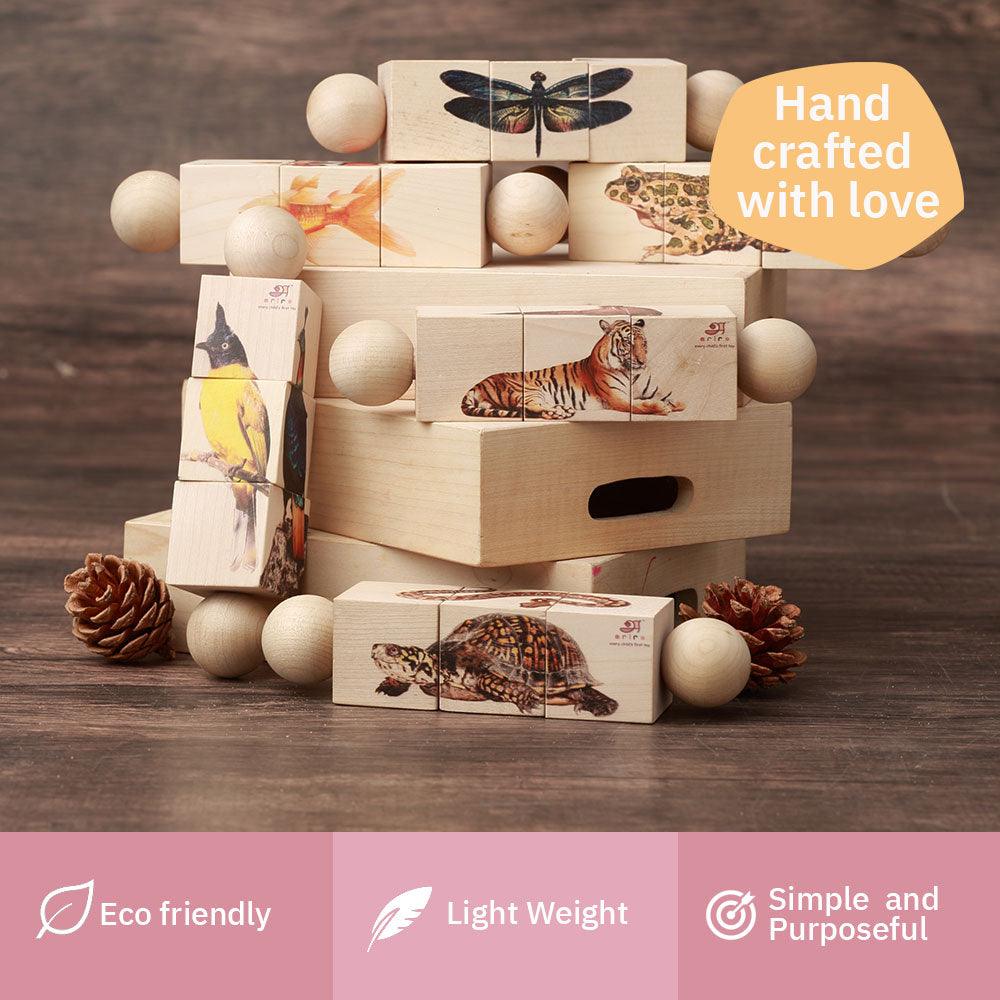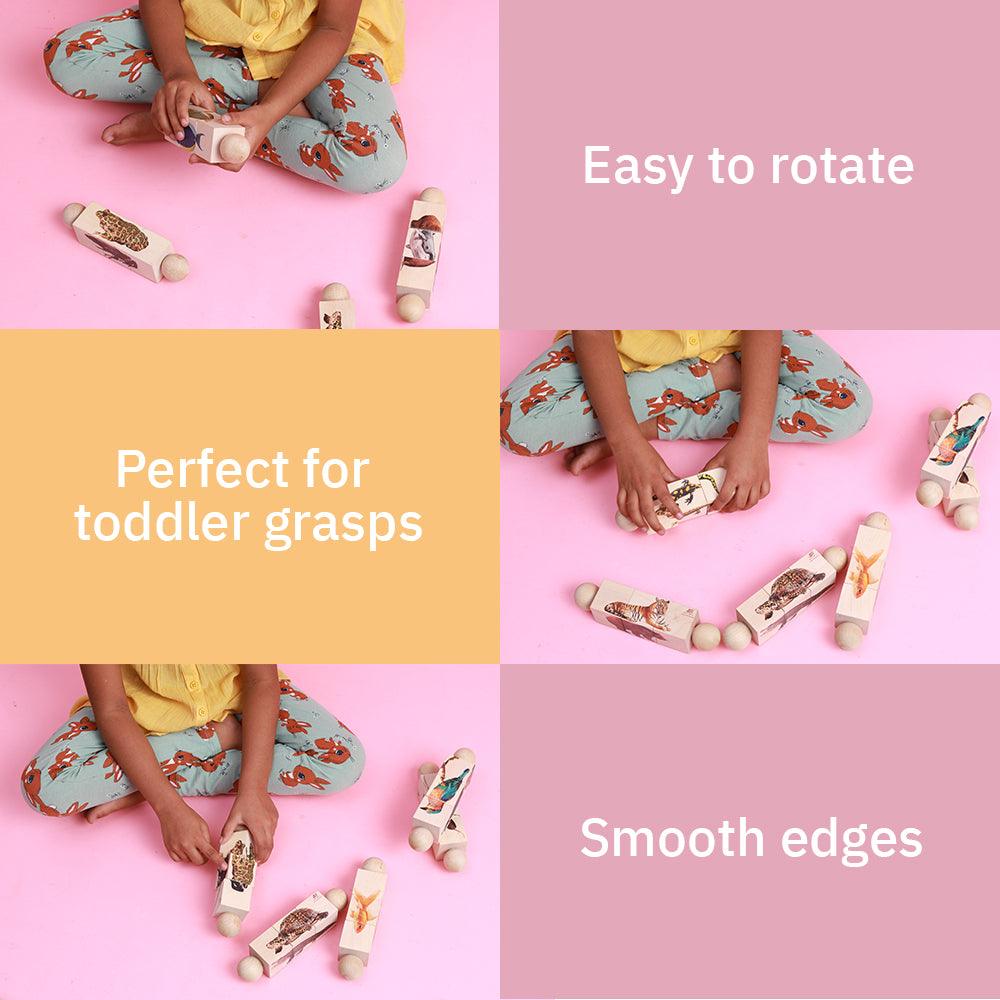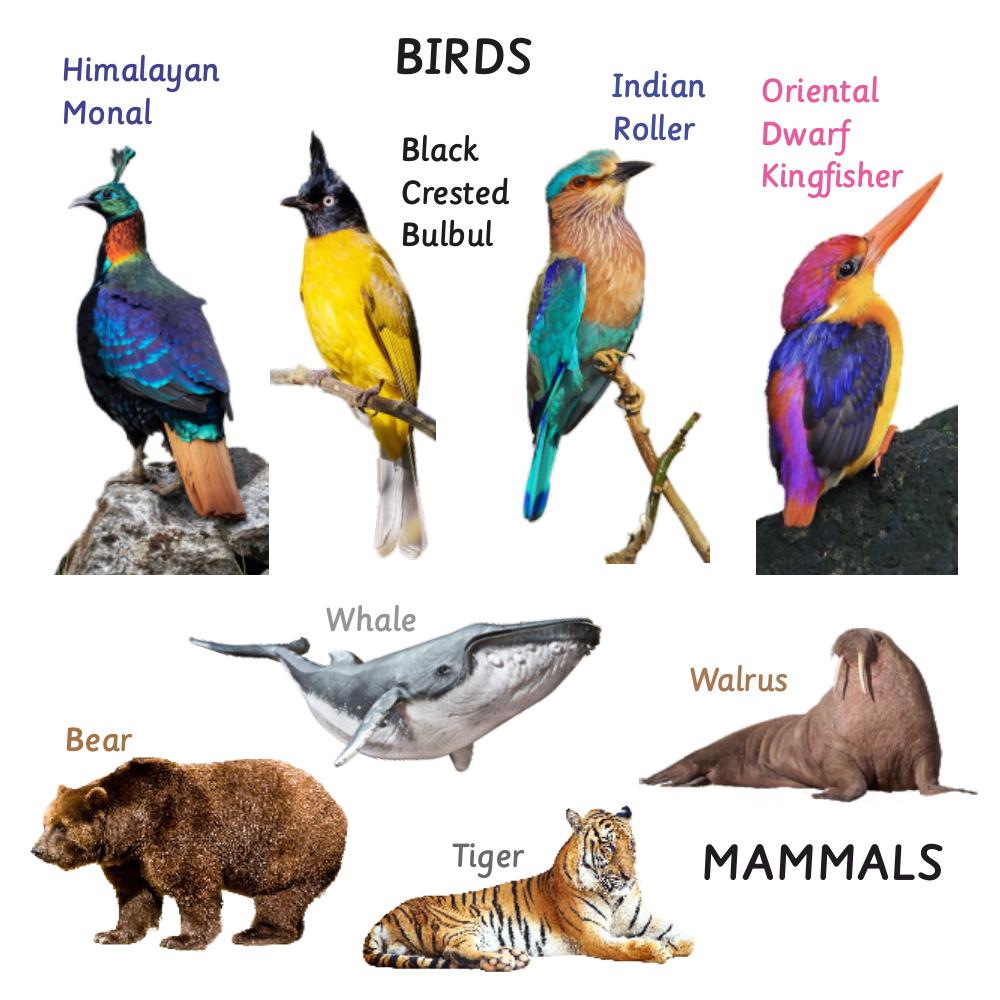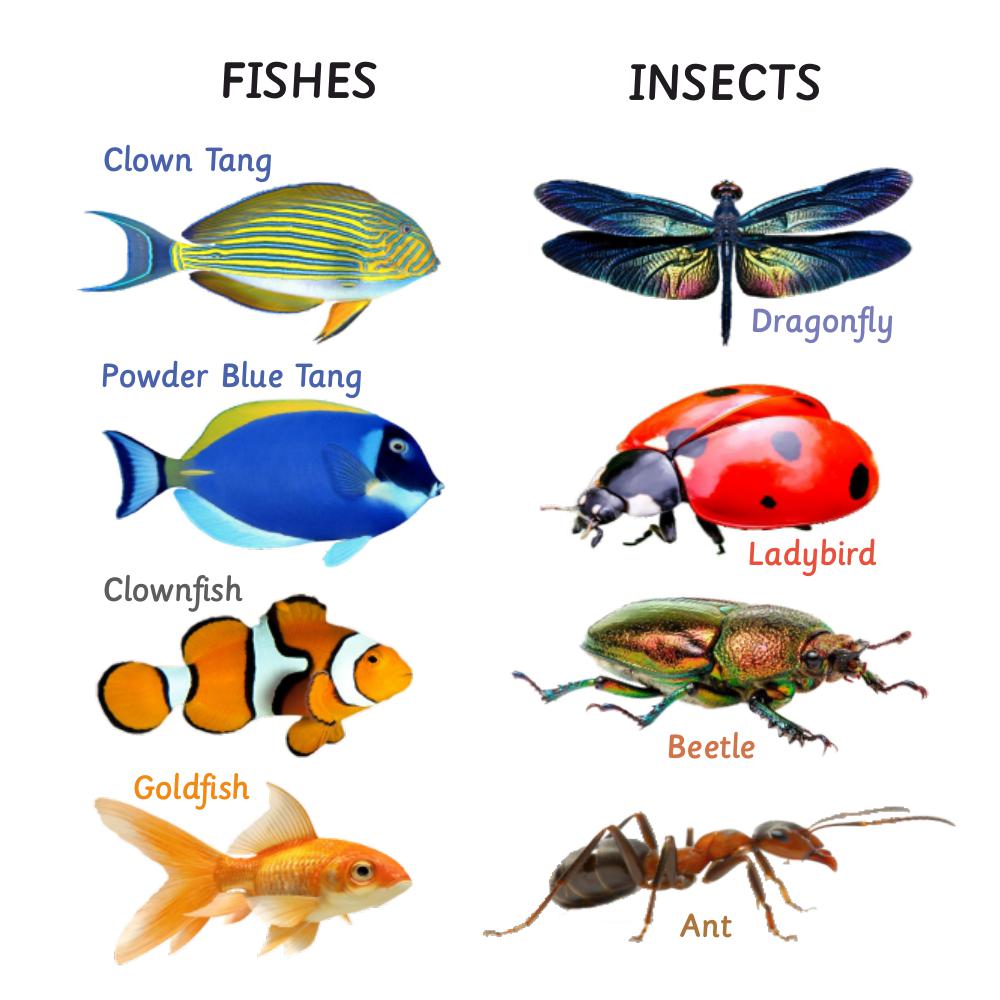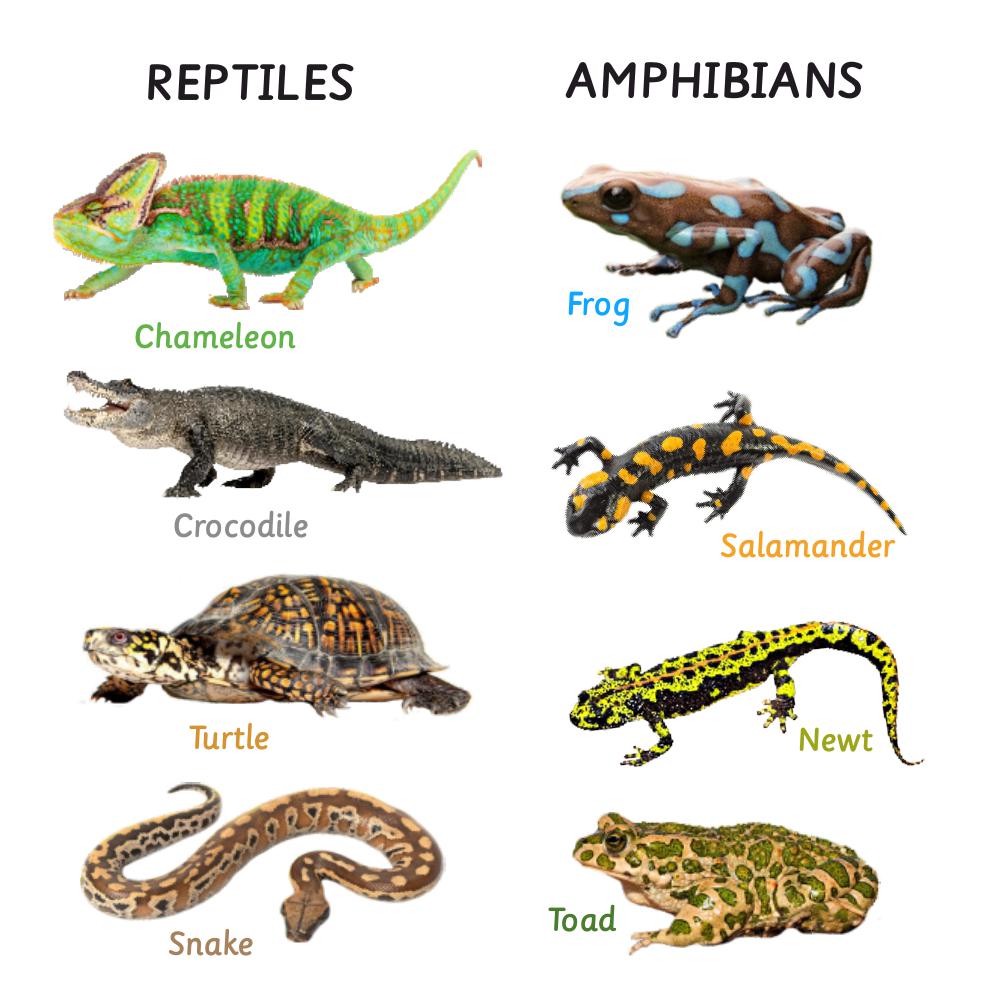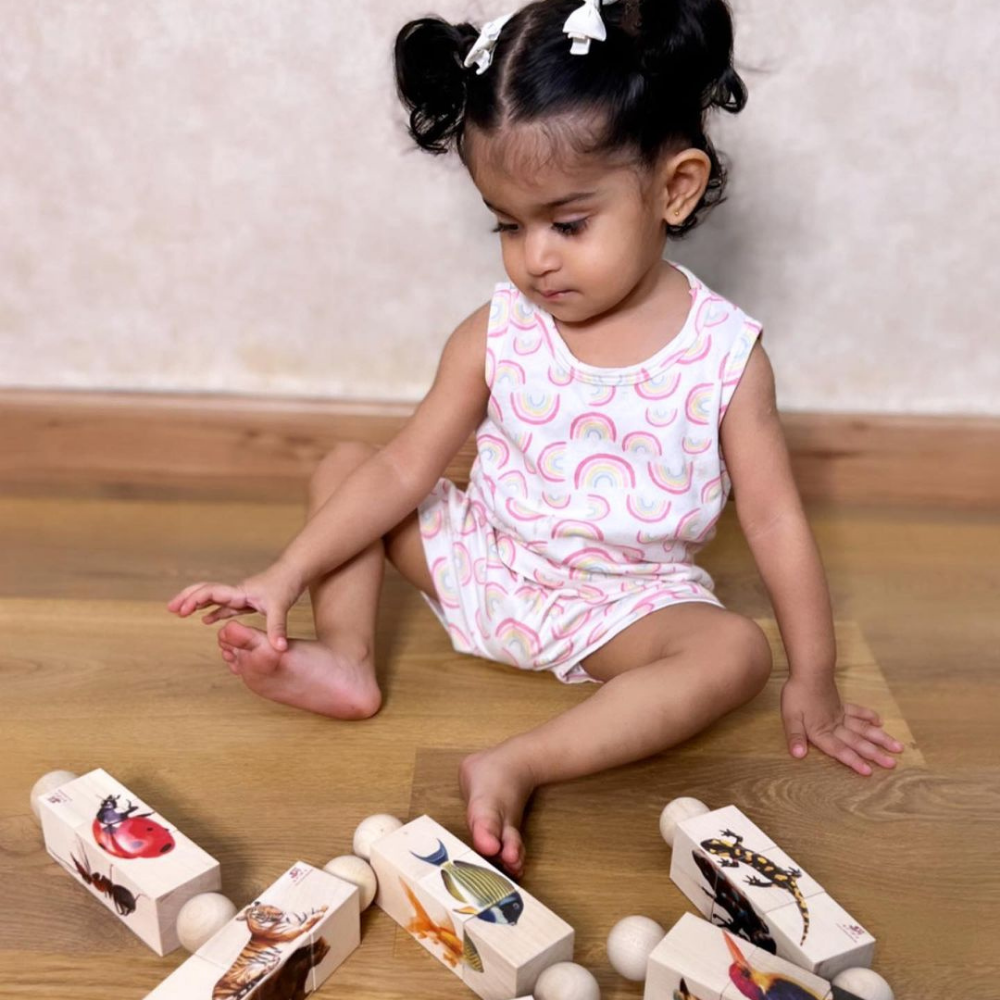 18 Months +
Rotating Puzzles - Classification of Animals(set of 6)
Develops fine motor skill | Encourages attention to detail | Improves concentration | Supports positioning schema | Enhances eye-hand coordination | Strengthens visual perception | Builds problem solving skills | Boosts logical thinking skills
Sale price
₹2,999.00
Regular price
₹3,294.00
Tax included.
Why our Rotating Puzzle?
Rotating Puzzles - Classification of Animals (set of 6). Helps in Wrist rotation, Toddler Rubik's cube, Visual discrimination of a kid. The product is for kids of Age 18+ months, Product Dimension are Each- 4 x 4 x 18 cm & is Made of Maple wood.
The package Contains - 1 Rotating Puzzle - For amphibians, 1 Rotating Puzzle - Mammals, 1 Rotating Puzzle - Insects, 1 Rotating Puzzle - Birds, 1 Rotating Puzzle - Reptiles, and 1 Rotating Puzzle - Fish.
The Montessori puzzle is ideal for your toddler who is sitting up by them-self and exploring their grips. Printed with realistic images, this puzzle is ideal for a toddler who loves to keep things simple and real.
It helps to build concentration, Improves visual discrimination, Provides opportunities for wrist rotation, and develops problem-solving skills.
The realistic images and the description card help children explore more animal names.
Montessori puzzle 
that is ideal for your toddler who is sitting up by them-self and is exploring their grips. Printed with realistic images, this puzzle is ideal for a toddler who loves keep things simple and real. The rotating cubes helps 
Builds concentration 
Improves visual discrimination 
Provides opportunities for wrist rotation and 

develops problem solving skills 
The realistic images and the description card helps children explore more animal names
Dimesnion ( L x B x H in cm):
Each- 4 x 4 x 18
---
Product Weight:
Each- 120g
---
Package Content:
1 Rotating Puzzle - Amphibians
1 Rotating Puzzle - Mammals
1 Rotating Puzzle - Insects
1 Rotating Puzzle - Birds
1 Rotating Puzzle - Reptiles
1 Rotating Puzzle - Fish
Your love is the only mission we work for! If you are not happy, please get back to us within 7 days for return/ exchange/ refunds. Call or whatsApp on 8939992452 Else mail to help@arirotoys.com
Know More
Rotating Puzzles - Classification of Animals(set of 6)
Sale price
₹2,999.00
Regular price
₹3,294.00
satisfied with the Quality