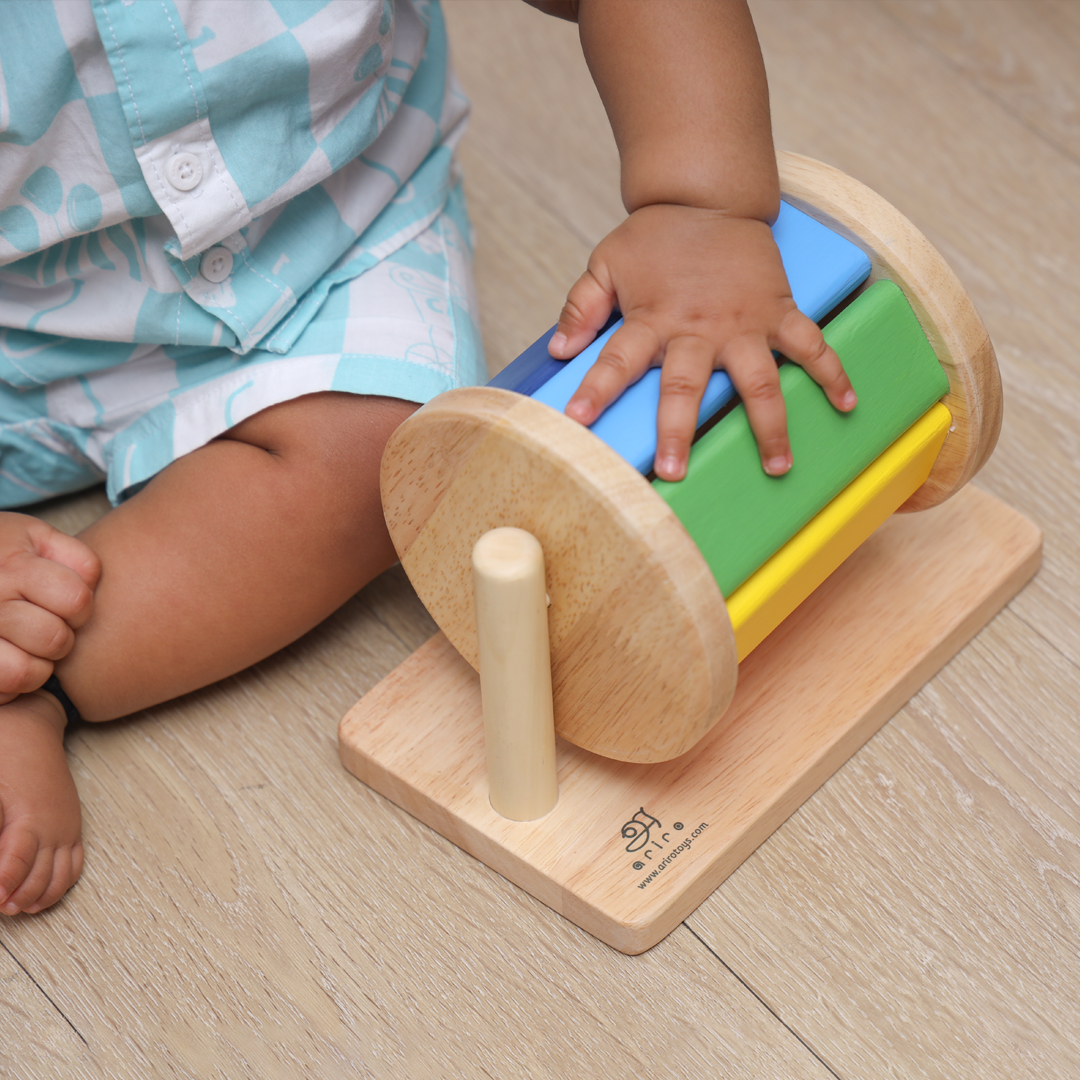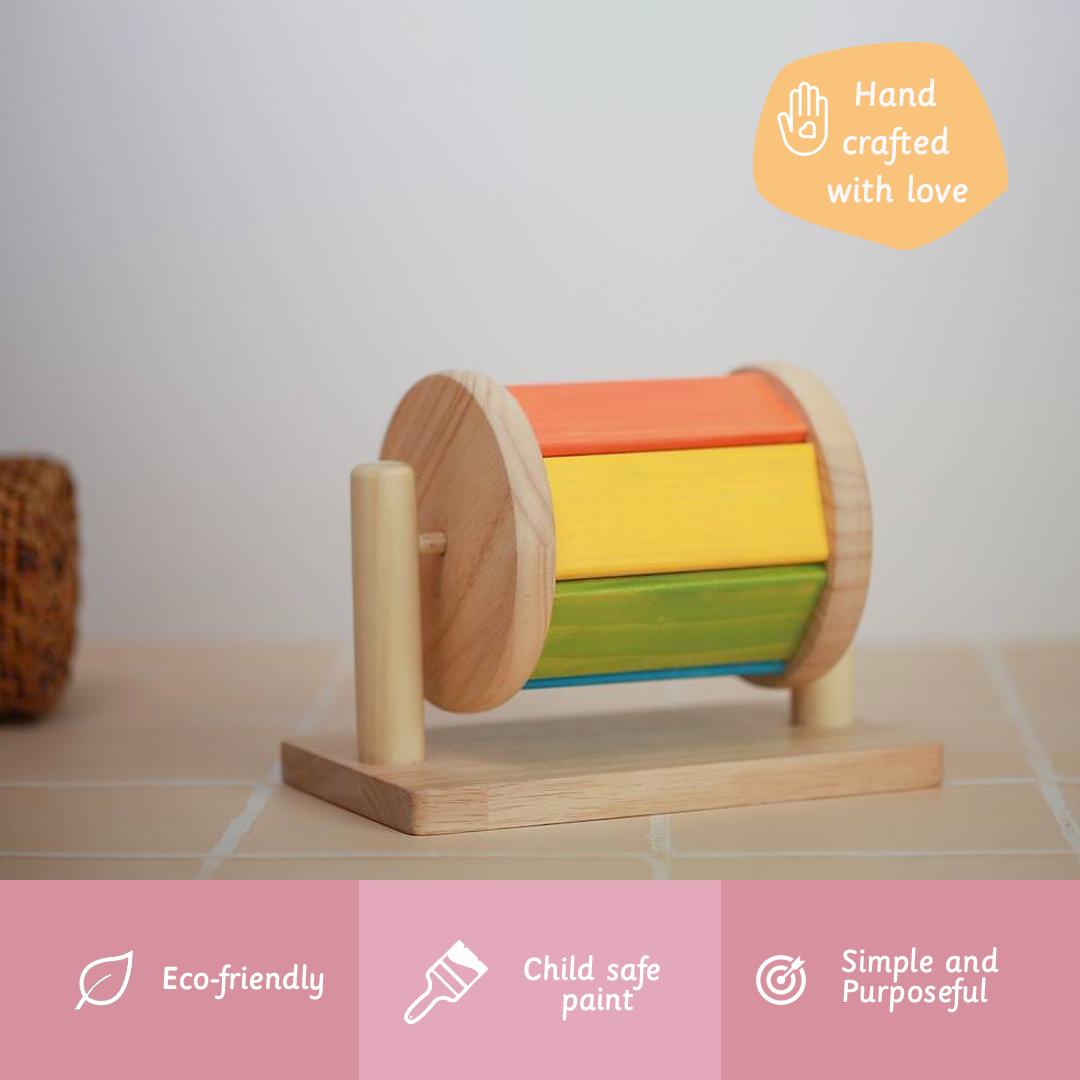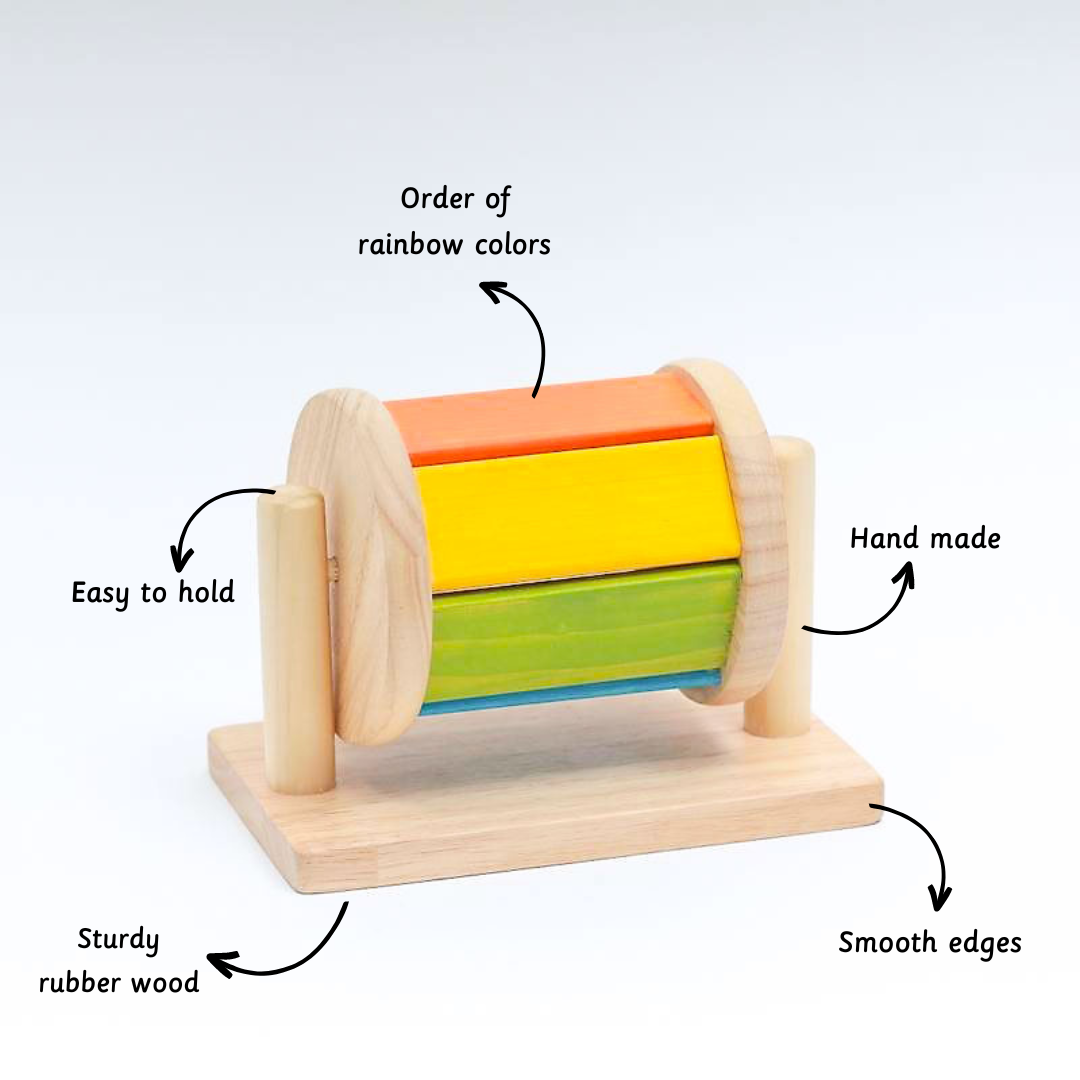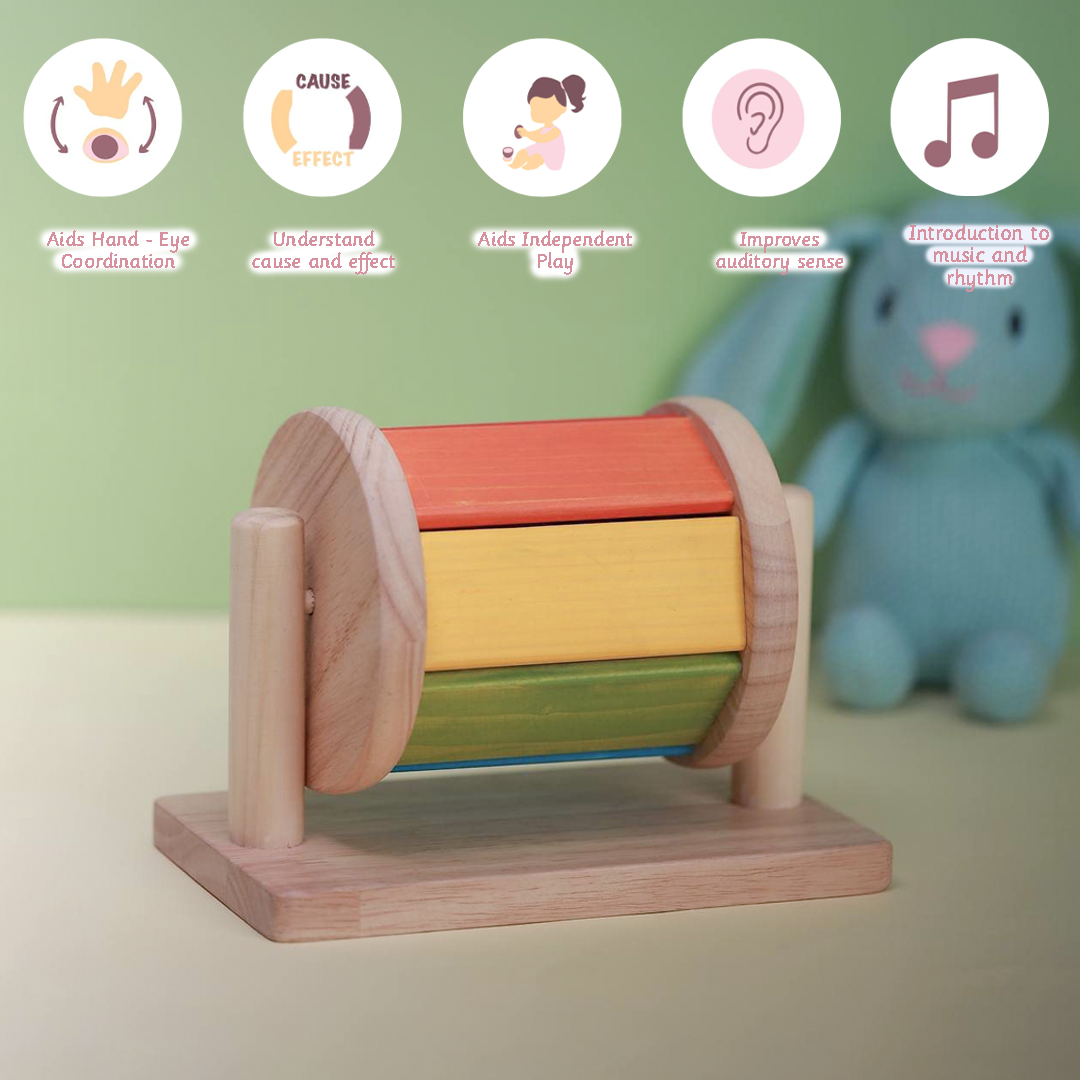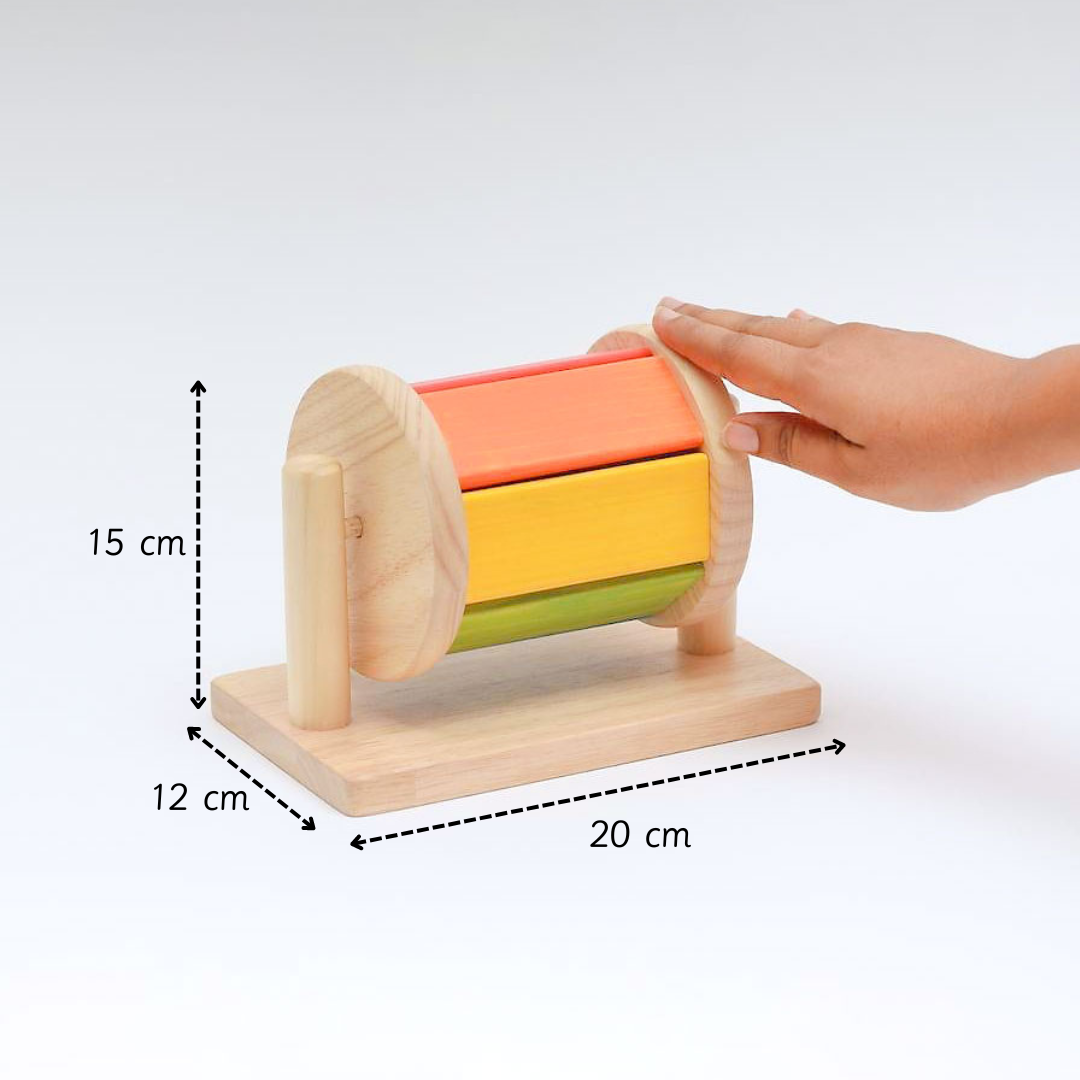 Core Body Strength Building | Hand-eye Coordination | Wrist Rotation | Independent Play| Cause & Effect
Sale price
₹1,350.00
Regular price
Tax included.
Why Ariro's Spinning Drum?
Are u looking for the right tummy-time toy? Look no further!
This is an ideal toy for developing core muscles & understand cause & effect
The lovely Rainbow colours is visually enriching & when rotated overlaps creating the rainbow effect
Made from solid rubber wood this is strong, sturdy & long lasting
Right gap between the wooden plates ensures safety for the little fingers
Smooth finishing, blunt edges and frictionless rotation makes it hassel free for the child
Each product is handcrafted with care and to perfection with child-safe paints.
Your child will enjoy the auditory gratification of wooden ball sounds.
Why Spinning Drum? 
Spinning drum is an ideal toy to enable the child to exercise their core muscles and wrist rotation. As the child uses this toy from lying on their tummy to playing while sitting up straight, their relationship with it could last quite a while. The wooden balls inside the drum ensures to keep their curiosity intact.
How to offer a Spinning Drum? 
The toy should be placed in front of the child as they are lying on their tummy. Place your palm on the drum and spin it slowly and gently towards the floor. Repeat the action 2 or 3 times for the child to observe and offer the toy to the child. Let them explore. 
As the child grows up,  have the drum on their shelf. They can pick it up and explore at their will. 
Benefits of Spinning Drum 
As your child manipulates it while lying on his or her stomach, it helps to develop

 

core strength. To turn the drum they have to work in elevating their upper bodies off the ground. 
As the child sits and manipulates the toy it helps with

 

stability

 

and

 

posture. 

A child who is crawling can manipulate by using one of their hands. This will help them understand they can use their hands for something more then locomotion. 

As your child concentrates on placing their palm on the drum to spin or tap on it, it improves

 

hand-eye coordination.

Its a good exercise for their wrists as the effort they exert on the

 

wrist

 

will enable to

 

strengthen

 

it during the course 

They become more

 

curious

 

and gives them an

 

auditory satisfaction thanks to the wooden balls rolling inside the rotating drum. 
They get to see what

 

cause & effect

 

is every time they see the drum spinning and they hear the wooden balls.  

It allows all the opportunities for an ideal

 

Independent

 

Play time 
Dimesnion: 20 x 12 x 15 cm
---
Product Weight: 620 grams
Material:
Rubberwood
Child safe paint and polish
| | |
| --- | --- |
| | Clean with a damp cloth |
| | Avoid washing with water |
| | Do not apply chemicals |
| | Avoid exposure to sunlight |
Your love is the only mission we work for! If you are not happy, please get back to us within 7 days for return/ exchange/ refunds. Call or whatsApp on 8939992452 Else mail to help@arirotoys.com
Know More
Spinning Drum
Sale price
₹1,350.00
Regular price