Useful Tips
What is a Pikler Triangle? Is it worth it?
Feb 18, 2021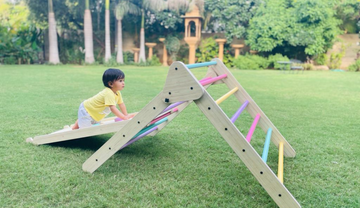 A Pikler Triangle is a simple but sturdy climbing structure that invites children to develop gross motor skills at their own pace. The Pikler Triangle encourages the child to explore and challenge the potential and capabilities of their body and physical strength.
The Pikler triangle can be used in multiple ways in three different angles, height and width. It grows with your child and can be used by children between 5 months and right until 5 years. The Pikler Triangle supports each age and stage of development in the appropriate manner.
The Pikler Triangle can transform into a floor gym for a newborn baby. For a baby can crawl, the pickler serves as a sturdy support to hold and explore. When your baby can stand, the Pikler Triangle is an aid to pull up against and stand. Soon the toddler who is walking can now climb up and down the Pikler Triangle at their own pace. As they grow older, children explore the Pikler Triangle and challenge themselves in multiple ways. The Pikler Triangle supports the child's growing independence and open-ended creative play. 
The Pikler supports the child's innate need for movement and exploration. It promotes gross motor development as it involves all the different muscle groups of the body and encourages big movements.
The Pikler helps your child understand their own body and thereby encourages spatial awareness.
Being able to climb independently increases your child's self-esteem and confidence.
The Pikler empowers your child's curiosity and self directed play.
It improves coordination, concentration and grip strength.
The Pikler encourages experimentation and kindles their curiosity.
It also aids collaboration, teamwork and cooperative play.
The Pikler builds intrinsic motivation and foster's a child's connection to the outside world.
It also builds the child's imagination and provides them with the optimum challenge to explore the limits of their body in a safe and fun manner.