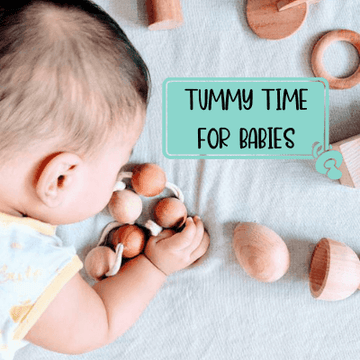 What?
Tummy time is quite simply, time your baby spends on their tummy or stomach when they are awake.
 Why?
Tummy time is developmentally necessary to aid children to raise their head, rest on their elbow and develop back, neck and shoulder muscles.
Tummy time may also aid children meet certain developmental milestones and prevent delays.
When ?
You can begin tummy time a few days after birth. Remember that tummy time for a newborn would look different from tummy time for an older baby.
Tummy time in the beginning can just be done during skin to skin, when the baby is lying on their tummy, touching the tummy or chest of their caregiver.
Tummy time can also be done on the caregiver's lap.
How long?
Like with all things in Montessori, follow your baby – observe and see how long they are comfortable. Initially it may be just for a few minutes, and you can slowly build it up. You don't need to do tummy time for long periods – instead do it short bouts whenever your baby seems comfortable and interested.
What aids can I give my baby during tummy time?
The most important aid is always you – lie down with your baby on the floor or meet them at their eye level to make them comfortable in this position. Singing or talking to them while you are at their level might also help.
Try various surface textures to see where you baby prefers to do tummy time. While some babies may like a bamboo mat, others may like a softer rug. Changing the room of the house or taking tummy time outdoors might also be a wonderful change for the baby.
You can also make tummy time interesting by doing it in front of a mirror or providing a baby mobile for stimulation.
 Other aids you can provide during tummy time include propping up a board book, rattles, grasping aids and wooden teethers.
Please remember to never force your baby to do tummy time and change their position as soon as you notice signs of distress or discomfort.