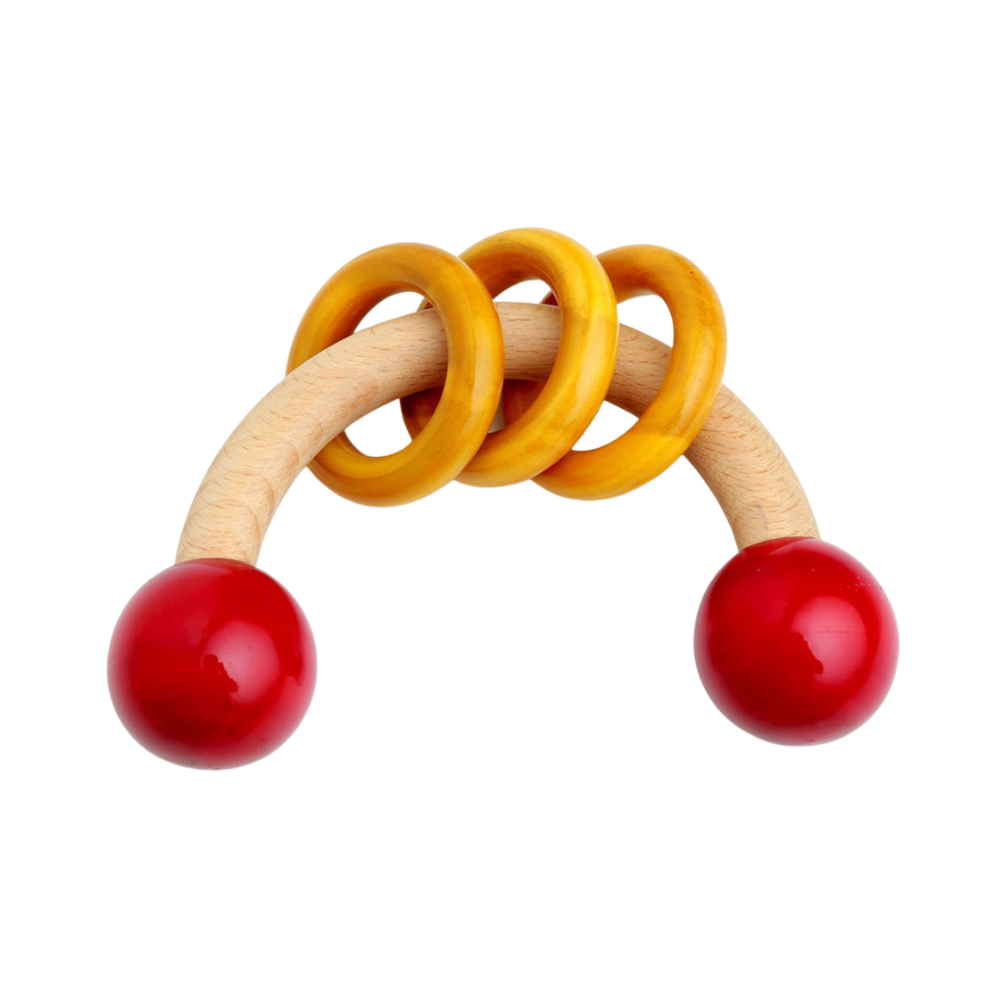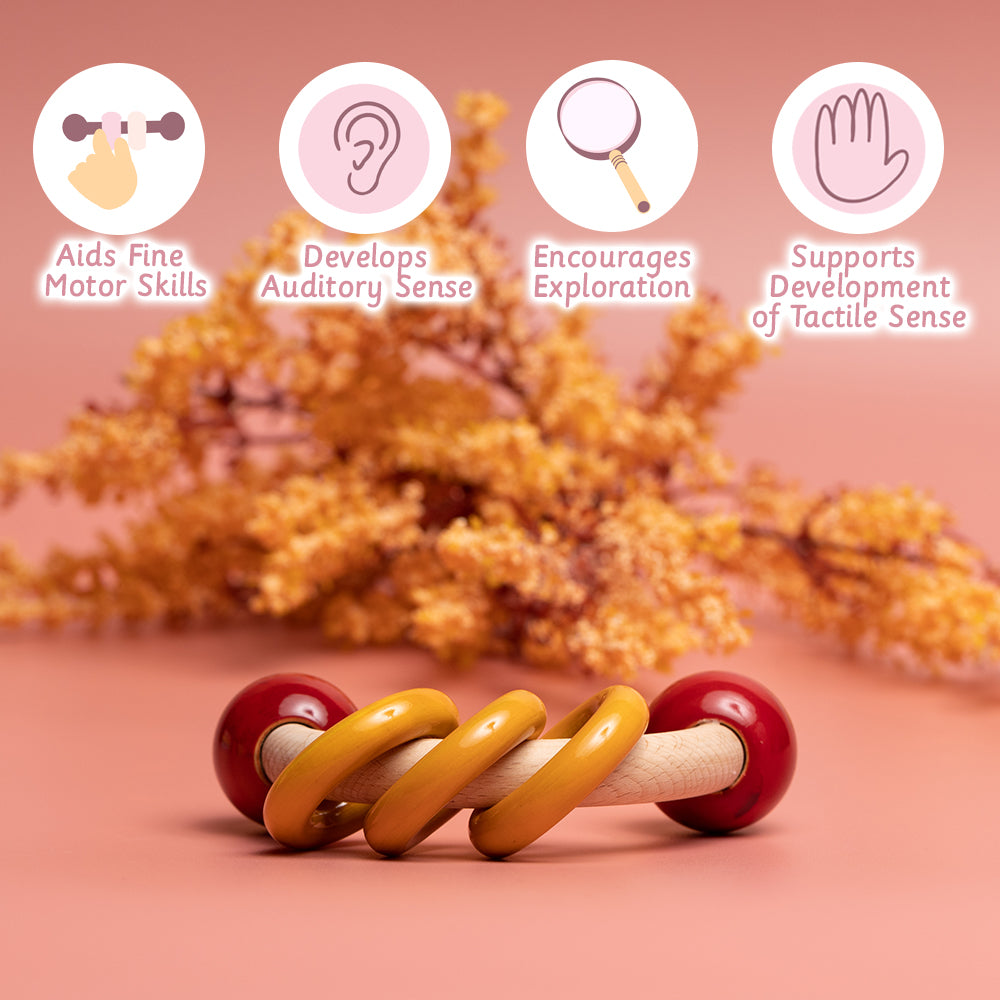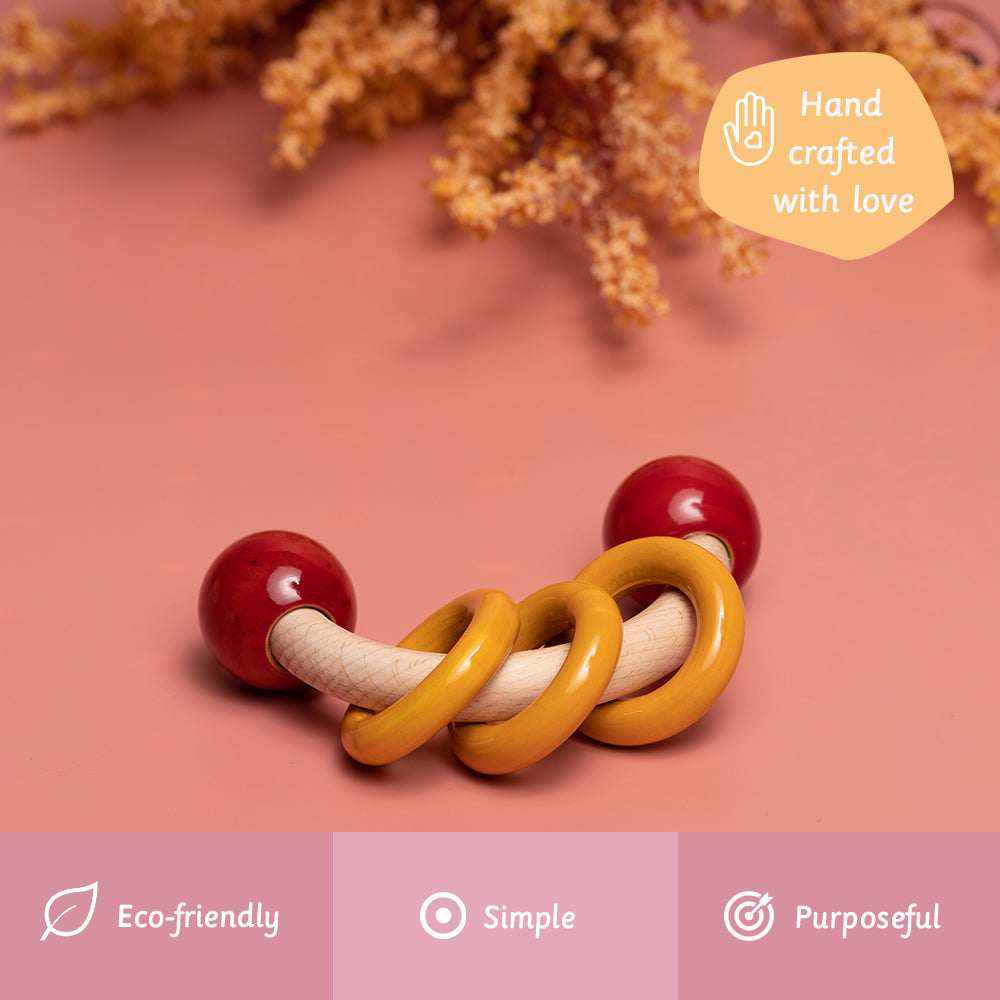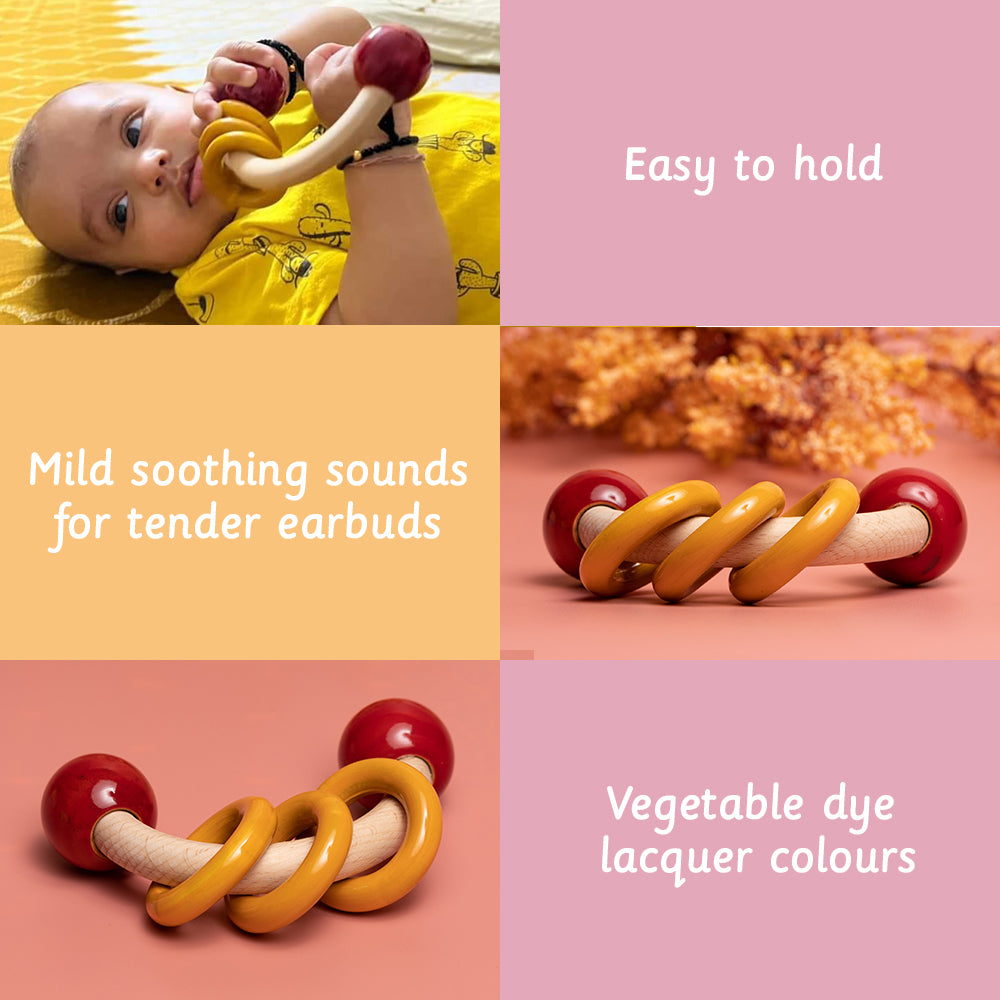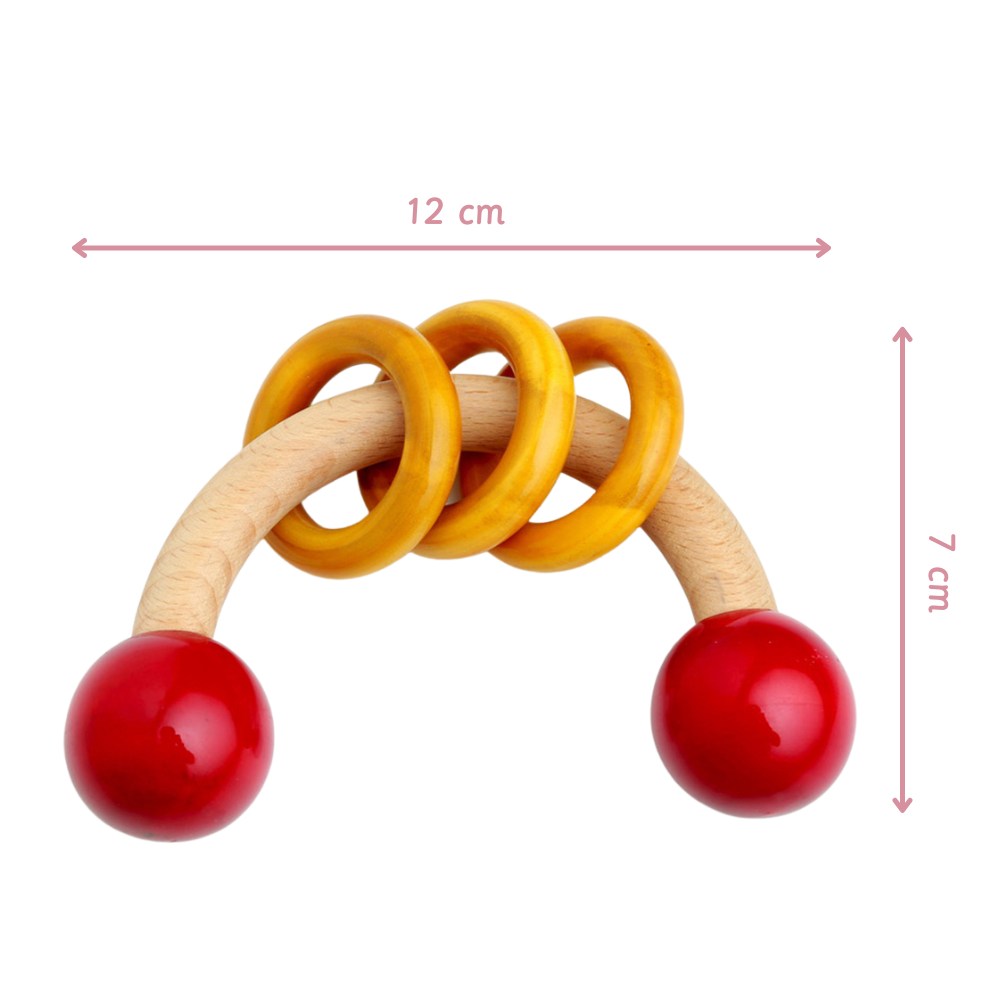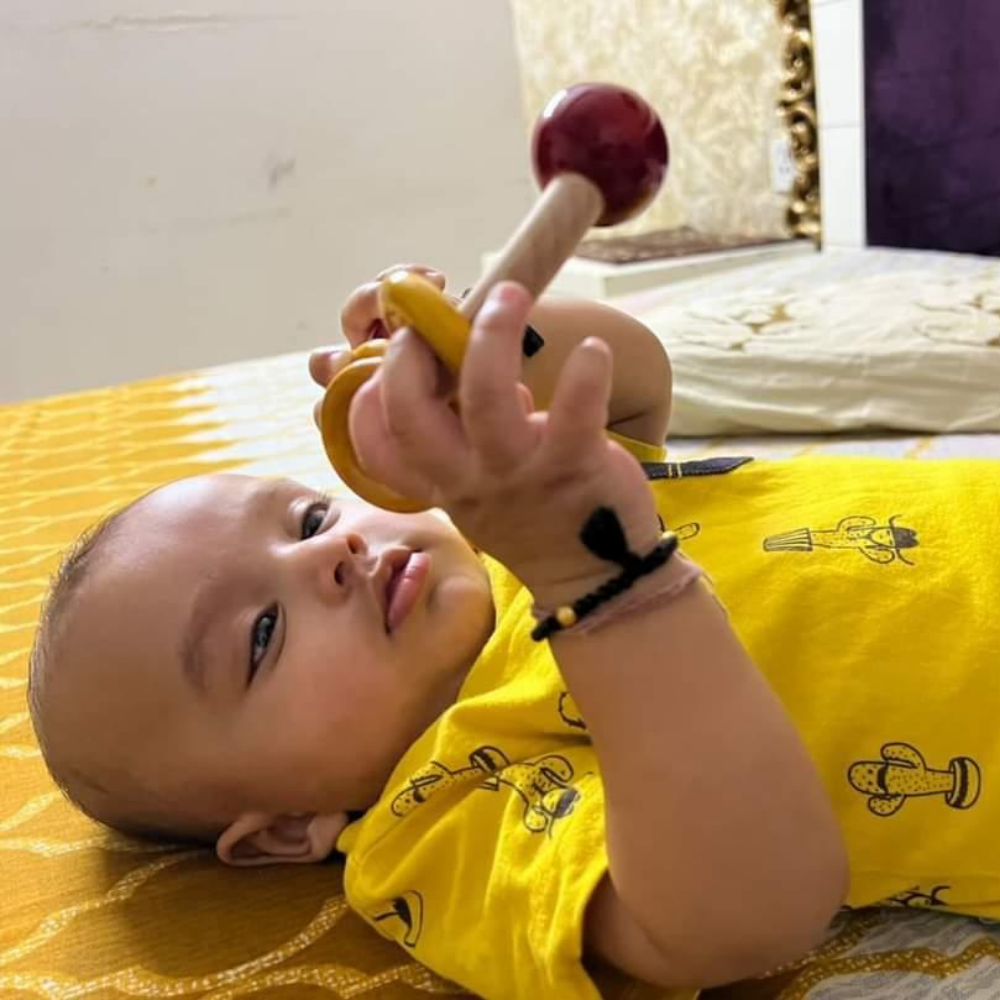 3 Months +
Wooden Rattle - Curvy with Rings
Soft calming sound | Improves auditory response | Aids independent play | Develops attention span | Understand cause and effect | Kindles curiosity | Supports sense of order
Sale price
₹399.00
Regular price
Tax included.
Why our Ariro's Curvy Rattle?
An ideal rattle when your child is showing signs of voluntary grasping
Ideal size for infant grasp
Made from natural colours and naturally seasoned wood
Designed by Montessori experts and hand-crafted to perfection by Artisans
Helps with hand-eye coordination
Supports Visual tracking
Sharpens Auditory skills
Wooden Rattle for infants  
Rattle can mildly stimulate your child, capture their attention and slowly help them focus towards the source of sound. This also can give them a sense of direction. 
Wooden rattle benefits  
When you move the rattle over your baby they will tend to try and grasp. This ensures Hand-eye coordination. Slowly Move the rattle across the child's face and let them track the movement this will help with Focus and tracking. 
Wood a Natural Stimuli 
The tactile experience that a baby gets when feeling wood is important for their sensorial development.  Wooden rattles are long lasting. This naturally finished wooden rattle is a good Grasping aid. Wood is also a natural material and this helps connect the babies with nature. 
Grasping and Rattling 
Babies will reach out and grasp for the rattles when held in front of them, this makes sure their grasping ability and voluntary movements are intact. When they rattle the toy their sense of sound develops. This rattle is perfectly shaped for grasping and rattling.
Ariro's Rattles 
- Ariro's rattles are made from the finest materials to ensure complete safety for your little one 
- Made from the lightest wood that has been naturally seasoned and finished without the use of chemicals.
- Using the lacquering procedure, natural extracts are used to colour the balls. 
- Thoughtfully designed around the Montessori principles by Montessori experts of Early childhood, who knows the needs of your child and the milestones. 
- A skilled artisan carefully and meticulously crafts each rattle by hand, paying close attention to safety and detail. These artisans have generations of experience in wood crafting. 
  **parental guidance necessary at all time 
Dimesnion ( L x B x H in cm):
12 x 7 x 4.5
---
Product Weight:
38 grams
---
Package Content:
1 Curvy with Rings Rattle
Your love is the only mission we work for! If you are not happy, please get back to us within 7 days for return/ exchange/ refunds. Call or whatsApp on 8939992452 Else mail to help@arirotoys.com
Know More
Wooden Rattle - Curvy with Rings
Sale price
₹399.00
Regular price